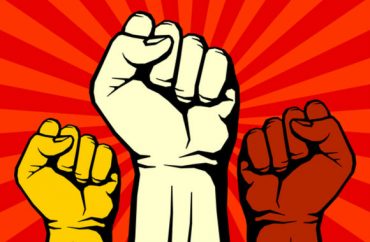 The real violence is homeless people sleeping in condo doorways
The pen is mightier than the sword, or at least the campus police.
A reporter for the Los Angeles Times managed to pull off something the University of California-Berkeley has thus far failed to do in the wake of violent protests that shut down an event featuring anti-feminist provocateur Milo Yiannopoulos: track down the thugs.
As noted incredulously by University of Utah Law Prof. Paul Cassell today, reporter Paige St. John got to know some of these supposedly untraceable "black bloc" protesters who "tore down police barricades, broke windows, started a fire and assaulted [President] Trump supporters" at the aborted campus event:
"I subscribe to self-defense in the very same sense that the Black Panther Party does and that Malcolm X does," said a veteran Bay Area black bloc militant who spoke on the condition that he not be named because much of the group's actions are illegal.
This college-graduate "militant" said the "most cruel and violent thing I think I have ever seen" is homeless people sleeping in the doorways of vacant condos – which is worse than the violence he admits enabling against people "for having certain types of political views."
MORE: Victim of 'black bloc' offers bounty to identify attacker
And he was happy to see campus police shrink back from confronting the black bloc out of fear of escalating the situation:
"They were going to allow [the Yiannopoulos event] to happen until they determined that it was too dangerous for it to actually happen," the black bloc member said. "So what other choice did we have?"
Inside the black bloc militant protest movement as it rises up against Trump https://t.co/lLNYwKnEkD pic.twitter.com/1PSP0oN4bR

— Los Angeles Times (@latimes) February 13, 2017
St. John talked to other bloc protesters who laid out their modus operandi:
The bloc pushes back against police lines, opening and holding space for mass demonstrations as police seek to corral and disperse the crowd. They draw pepper spray, rubber bullets and other uses of force. They say they focus destruction on standard-bearers of capitalism: Bank machines and a campus Starbucks were hit after Berkeley called off the Yiannopoulos speech. …

Those activists interviewed expressed no remorse for the property damage. They said it should pressure the university to think twice about allowing such events in the future. They hold the same regard for violence against people.
MORE: Berkeley Republican says pro-Milo students still getting threats
And while one anarchist group is hosting a recruitment event next month to draw more activists into political violence, they already have some named allies:
"It wasn't just people dressed in black who were acting militantly and everyone else is peace-loving Berkeley hippies," said Yvette Felarca, a political organizer of By Any Means Necessary, an immigration and affirmative action coalition that seeks to build a mass militant movement.

"Everyone cheered when those barricades were dismantled. … Everyone was there with us in political agreement of the necessity of shutting it down, whatever it was going to take." …

Felarca and other activists said there is no official coordination with the black bloc, but there is covert communication between longtime street allies.
MORE: Student paper says riots were 'same freedom of speech' as Milo's
"If an Los Angeles Times reporter can find the black bloc attackers, why can't the Berkeley authorities?" Prof. Cassell says:
But it is not clear to me how eager UC Berkeley is to apprehend those responsible for the attack. … And, as the always-informative Heather Mac Donald has recounted, at least some UC Berkeley faculty members did not seem particularly disappointed about Yiannopoulos being shut down.
Mac Donald obtained some faculty emails that followed the campus destruction, including one from a professor of French who praised the rioters for "very sparingly destroying just enough University property to obtain the cancelation order for the event and making sure no one in the crowd got hurt."
This is amazing: Tenured faculty at Berkeley are openly cheering violence against campus property (endangering anyone in the bloc's vicinity) to protect the community from harm.
Perhaps this is why the administration and campus police haven't found any black bloc thugs – they don't want to be criticized by faculty who just want to see the world burn.
Read the Times story, Cassell's post and Mac Donald's post.
MORE: Trump threatens UC-Berkeley's funding after Milo riots
Like The College Fix on Facebook / Follow us on Twitter
IMAGE: MicroOne/Shutterstock