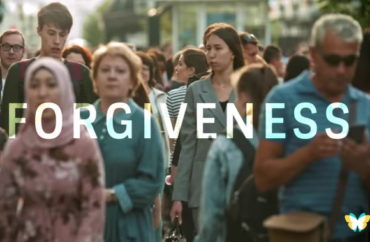 Forgiveness decreases anxiety and depression, according to a new global study by international researchers.
The results are important because forgiveness helps with physical, emotional and spiritual health,  the researchers said.
The trial was billed as the largest ever conducted on forgiveness, with nearly 5,000 participants who completed a forgiveness workbook and subsequently experienced less anxiety and depression, researchers found.
The process helped develop an "increased ability and disposition to forgive, a reduction in depression and anxiety symptoms, and an increase in flourishing compared to those with delayed receipt of the workbook," according to a news release summarizing the findings.
"Forgiveness, while often overlooked in health care discussions, is an issue of public health," stated Tyler VanderWeele, co-director of the Initiative on Health, Spirituality and Religion at Harvard University.
"The growing body of research reinforces the efficacy of forgiveness interventions in improving many aspects of human flourishing, from mental health to happiness, character, and even our sense of hope."
Trial participants came from Hong Kong, Indonesia, Ukraine, Colombia, and South Africa, "countries that have all faced civil conflict or unrest in the recent past," the news release stated.
The workbook used in the study employs the REACH Forgiveness model created by Everett Worthington, a psychologist who has studied "forgiveness as a tool for improving people's lives and relationships for more than 40 years," it stated.
Worthington, professor emeritus at Virginia Commonwealth University, told The College Fix the topic is something everyone can relate to, even college students.
"There is a lot of research showing that college students often struggle with mental health difficulties, relational difficulties, and even alcohol or drug misuse," Worthington told The Fix.
"Many of those difficulties stem from resentment, bitterness, hatred, and anger toward their parents, romantic partners, or friends who have hurt or offended them," he said.
"That's where these brief workbooks can really help students get rid of much of their unforgiveness. Without that underbelly of unforgiveness, a lot of the emotional, relational, and family problems will be easier to deal with," he said.
REACH is an acronym according to the model:
R: "Recall the hurt: Face that you have been hurt, but make a decision to forgive and not pursue retaliation"

E: "Empathize with your partner: Work to understand why you may have been wronged, allowing you to heal from hurt and give forgiveness"

A: "Altruistic gift: Forgive unselfishly"

C: "Commit: Write a note to yourself about who you forgave to help the forgiveness last H Hold onto your forgiveness"

H: "Hold onto your forgiveness"
CNBC reported Worthington "was faced with the challenge of forgiving the man who killed his mother in 1996. After processing his feelings and seeing how the hurt was changing him, he decided to commit to forgiving the man and hold onto the forgiveness."
"I was able to experience emotional forgiveness and make a decision that I would treat him differently if the circumstances arose that I ever met him," Worthington told CNBC.
The REACH workbook is available for free to download at REACH.DiscoverForgiveness.org in many different languages.
Man Yee Ho, a principal investigator of the research based in Hong Kong, said in a video released with the results of the study that forgiveness is related to "physical health, psychological health, also spiritual health."
"It's pretty crucial for people's overall well-being," she said.
According to the news release, the Templeton World Charity Foundation cosponsored the research, along with the Initiative on Health, Religion, & Spirituality, the Making Caring Common Project in the Harvard Graduate School of Education, the Religion Conflict and Peace Initiative at Harvard Divinity School, and the Harvard Catholic Forum.
MORE: Harvard scholars: Marriage makes women happier and healthier
IMAGE: Templeton World Charity Foundation / YouTube screenshot
Like The College Fix on Facebook / Follow us on Twitter