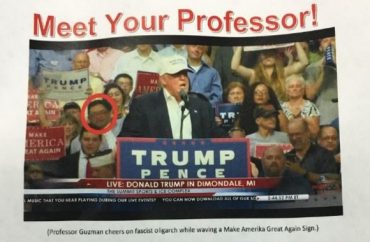 Trump-shaming shuts down civil campus discourse, scholar says
Michigan State University Professor Joseph Guzman can vividly recall the first day of the fall semester. That's because as he walked into his classroom, he felt surprise at seeing a group of students passing out flyers with his face on them.
"There were students in my first lecture that were handing out flyers that I thought were offensive," Guzman told The College Fix in a telephone interview. "They were saying things that weren't true."
The flyers declared "Meet Your Professor!" in big, red lettering with a photo of Guzman at a Trump rally. Guzman is statewide co-chair for Trump's Michigan campaign and a member of Trump's National Hispanic Advisory.
The flyer added: "Guzman claims to represent the Hispanic community by advocating for unfair and unequal working conditions for migrant workers that place them at the mercy of predatory bosses." They were also plastered around campus, too.
"They weren't even part of the class," Guzman said, speaking of the students who disrupted that first lecture.
The students were there because they do not like who Professor Guzman supports in this election.
Guzman, an assistant professor of human resources and labor relations, said that's not the only time he has received flak from students – especially from those who are not in his classes.
The students' actions are concerning, as they reflect a wider national trend on campus of replacing dialogue and discussion with name-calling and disruption, he said.
"One of the great things that can happen in college is that you can pick up tools and experiences and learn how to engage civilly and professionally, and I think that by trying to shut down or shame others, students are damaging that process," he said.
Guzman said he values the goals of a university education.
"I think the campus environment is very special," he said. "Disrupting class is not the way to go."
Some students in his class supported him after the ordeal.
"I had a couple of students who came and apologized for that. They just felt badly about what the other students were doing," he said.
The protests against Guzman has prompted national headlines. While some have said free speech gives people the right to criticize the scholar, many have voiced sympathy for the so-called Trump shaming he faced.
Ingrid Jacques of The Detroit News, who interviewed Guzman, points out the irony of the entire situation, given the campus safe space movement.
"Apparently everyone deserves a safe space, except for conservatives and Trump supporters," she wrote.
And Mark Bauerlein, a conservative professor of English at Emory University, told Inside Higher Ed: "Let the posters circulate, and let [Guzman] reiterate his support for Trump. I admire him for doing so — we have enough academics bowing down as it is."
MORE: College students who openly support Trump censored, threatened, bullied by professors, peers
Like The College Fix on Facebook / Follow us on Twitter