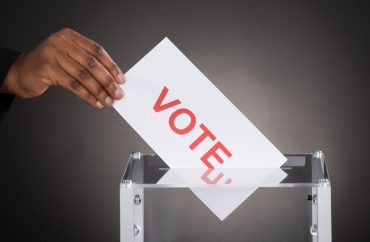 A law professor from Washington and Lee University believes the votes of black Americans should be counted twice in US elections as a form of "voter reparations."
Brandon Hasbrouck, who teaches criminal law, race relations law and critical theory, writes in The Nation that the "core problem" is the Electoral College:
How fair is it, for example, that primarily white Wyoming gets three electors … while 58 percent-black Atlanta gets no electors and "can only occasionally overcome the mostly white and conservative votes from elsewhere in the state"?
"Without sufficient voting power," Hasbrouck says, "Black communities receive substandard education, and politicians are free to appoint judges who sanction mass incarceration, abusive policing, and electoral disenfranchisement."
The professor also says the Electoral College was "critical" to the preservation of slavery and "its continuation by other means."
The votes of African-Americans aren't the only ones that should be counted twice, Hasbrouck says; those of Native Americans should too. In fact, those of anyone who's "suffered similar disenfranchisement" should be double-counted.
Vote reparations would create possibilities to build what W.E.B. Du Bois called "abolition democracy," or the practice of achieving a racially just society. Abolition democracy invites us to engage with abolition not as a finite goal but as a radical process of challenging injustices wherever and in whatever form they might appear. Vote reparations would empower us to replace oppressive institutions with life-affirming structures of economic, social, and political equality. And if our elected representatives did not prioritize this transformational work, we could vote them out.

Because white votes currently count more than Black ones, double-counting Black votes would restore electoral balance. Vote reparations would be a giant step toward remedying our nation's long history of denying and devaluing Black votes. To address systemic racism, we must transform how we choose our government.
Hasbrouck also favorably mentions then-doctoral candidate Theodore Johnson's idea from 2015 which argues for a sort-of "five-thirds compromise" whereby black votes would be 167 percent of everyone else's.
Unlike Hasbrouck, however, Johnson believes his idea is less feasible than monetary reparations.
In the debate over the name of his institution, Professor Hasbrouck wrote an article for the Washington and Lee Law Review Online titled "White Saviors," the abstract of which states "It is time for Washington and Lee University to drop both George Washington and Robert E. Lee from the University name."
MORE: UCLA law professor: US should pay reparations to Latinos
MORE: Foreign prime minister demands slavery reparations from Harvard
IMAGE: Andrey Popov / Shutterstock.com
Like The College Fix on Facebook / Follow us on Twitter