A prominent law professor is speaking out against California's new "yes means yes" law, calling it "confusingly complex," "contrary to both common sense and the law," and downright "ridiculous."
John Banzhaf, a professor of public interest law at The George Washington University, first spoke out about the law a month before it was enacted in late September, predicting it could cause legal chaos.
Today, he continues to be a prominent vocal critic against the new law, which requires students who attend public universities in California to obtain explicit and ongoing "affirmative consent" when engaging in sexual activity.
"Many people are convinced that there is a wave of campus rapes and we have to rush to do something," Banzhaf said in a telephone interview Tuesday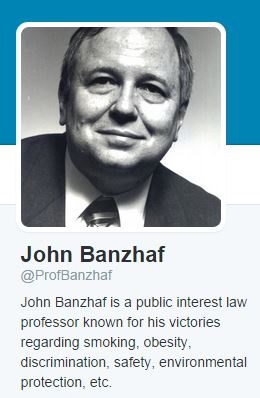 with The College Fix. "[The California law] doesn't solve the real problem, but instead it infantilizes women because it assumes that they don't have the common sense to say no when he begins to do something they don't want done."
The law states it is the responsibility of each person involved in a hookup to ensure they have affirmative consent to engage in sexual activity, thus the "yes means yes" nickname.
"Lack of protest or resistance does not mean consent, nor does silence mean consent," the law states. "Affirmative consent must be ongoing throughout a sexual activity and can be revoked at any time."
But Banzhaf points out that California college students engaging in sexual intercourse could be guilty of sexually harassing each other under the law if neither one asks for consent at every single step of the process. He said this is confusing because "what's gone on before can imply consent."
What is "very clear," however, is that lawmakers who voted for the bill do not fully understand it and simply did not think it through, Banzhaf said, characterizing it as more of a reactionary plan to campus rape concerns.
In addition, he said, the law is not realistic in the bedroom.
"It seems a little bit unfair," he said. "In the real world, you don't see a guy saying 'Can I do this, can I now do this?' Somebody forgets to ask and boom, you're in trouble."
What's more, under the law, "if a girl gives oral sex and the guy doesn't give consent, the guy can now charge for sexual harassment – let's see how the school likes that," he said.
He said the best way to combat the so-called rape culture on college campuses and elsewhere is for all states to pass a "no means no" law – "a simple answer," he said.
"If we simply had a uniform law – 'no means no' – it's clear, unambiguous, nobody has to interrupt anything," he said, adding he believes accusations of rape should be handled by the criminal justice system, not campus tribunals.
Banzhaf has been quoted often by major media outlets on affirmative consent in recent months.
In August, he told The Associated Press that "having university disciplinary panels interpret vague cues and body language will open the door for more lawsuits" and that "the legal definition of rape in most states means the perpetrator used force or the threat of force against the victim, but the California legislation could set the stage in which both parties could accuse each other of sexual assault."
"This bill would very, very radically change the definition of rape," he was quoted as saying.
More recently, he told U.S. World and News Report in late September that "the imprecise definition of 'affirmative consent' means couples who do not specifically discuss consent may be guilty of sexually assaulting each other, and that under the law a female student could be charged with sexual assault if she offers oral sex and her inebriated partner accepts."
"This may seem bizarre that a guy who is presumably laying back and having oral sex and one assumes enjoying it – or at least tolerating it – is not consenting simply by doing that, but under that definition if he didn't say 'yes,' she's a sexual violator," he had said.
Banzhaf is also the professor behind a petition before the Federal Communications Commission to ban the term Redskins from on-air broadcasts by having it deemed obscenity.
College Fix reporter Andrew Desiderio is a student at The George Washington University.
Like The College Fix on Facebook / Follow us on Twitter
IMAGE: DonkeyHotey/Flickr