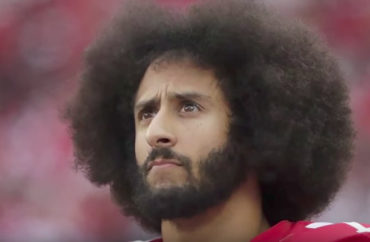 As quarterback Colin Kaepernick has yet to land a job with an NFL team, some law professors believe he might have a race discrimination case against the football league should he choose to file one.
As you probably know, Kaepernick was rather outspoken last season regarding issues highlighted by Black Lives Matter. His most controversial protest was electing to kneel during the playing of the National Anthem.
Though the QB's last few seasons have been disappointing, he did lead the San Francisco 49ers to the Super Bowl in 2012 (ultimately losing a close game to the Baltimore Ravens) and to the NFC Championship the following year (another close loss to the Seattle Seahawks). In other words, he has proven he has the chops to excel at the position.
According to TheUndefeated.com, USC law professor Jody David Armour says "[I]t's hard to look at statistics on the number of players who have signed contracts who haven't been to the playoffs, who haven't been to a Super Bowl and who can't point to the kind of record that he can point to and say that there isn't something going on here in the way of a message being sent out in some kind of discrimination."
What Armour laid out may provide Kaepernick with the legal grounds to challenge the NFL in court, according to Susan D. Carle, a professor of law at American University's Washington College of Law. Carle, an expert in discrimination, labor and employment law, said professional sports teams "have the complete right to choose the person they think is going to be best, and they can make that decision based on any reason except an illegal reason. So the only way that Kaepernick would have a viable lawsuit would be if he could show they were using an illegal reason" not to sign him. "And illegal reasons could include … race discrimination."

But Kaepernick would face a high bar to prove his case, Carle acknowledged. "It would be very hard to show, and this is true in any kind of discrimination case, that the reason we didn't hire you was because of an illegal reason and not just because we thought somebody else would be better at the job," said Carle. "Every plaintiff in any kind of employment case faces that problem."
Indeed, as civil rights lawyer Victor M. Glasberg notes, being that the NFL is almost 70% African-American it's tough "to be painted as [an organization] that's not hiring somebody because of their race."
MORE: Large group of protesters sit, raise fists during national anthem at UNC football game
MORE: Catholic schools to players, coaches: Stand for National Anthem or be suspended
Like The College Fix on Facebook / Follow us on Twitter
IMAGE: YouTube