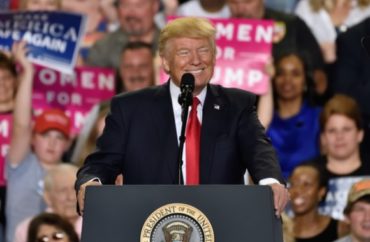 But two left-leaning law professors dismiss idea
President Donald Trump should be blocked from the presidency in 2024 because of his role in an "insurrection" according to several law professors.
But the arguments for and against invoking the 14th Amendment to stop Trump have created an odd situation, where some of the president's backers are considered left-leaning professors while some of his detractors are right-leaning scholars.
The 14th Amendment "disqualifies former President Donald Trump, and potentially many others, because of their participation in the attempted overthrow of the 2020 presidential election," University of Chicago Professor William Baude and University of St. Thomas Professor Michael Paulsen wrote.
"Overall, it seems to us to be quite clear that the specific series of events leading up to and culminating in the January 6, 2021 attack qualifies as an insurrection within the meaning of Section Three: 'concerted, forcible resistance to the authority of government to execute the laws in at least some significant respect,'" the two Federalist Society-affiliated professors wrote in the University of Pennsylvania Law Review.
"The most politically explosive application of Section Three to the events of January 6, is at the same time the most straightforward," the pair wrote. "In our view, on the basis of the public record, former President Donald J. Trump is constitutionally disqualified from again being President (or holding any other covered office) because of his role in the attempted overthrow of the 2020 election and the events leading to the January 6 attack."
The pair went through the reasons to support their theory, including the president's "incendiary address at the White House Ellipse."
Although they write that Trump never actually encouraged people to fight, that "[some] of his statements were ambiguous, that he told protesters to march "peacefully and patriotically" and "never directly and literally called for attacking the Capitol or the Vice President" he is still guilty of aiding in the insurrection.
They wrote:
Nonetheless, the general and specific message was that the election had been stolen; that a constitutional fraud of colossal proportions and cataclysmic consequence was in the process of being perpetrated on the nation; that the crowd needed to take "strong" and direct action to protect the country; and that immediate action was necessary to prevent Vice President Pence and Congress from ratifying the unconstitutional election of an illegitimate president and doing.
Liberal Harvard University Professor Laurence Tribe also endorsed the theory in his own essay in The Atlantic echoing sentiments shared by University of Baltimore law school Professor Kimberly Wehle. Tribe wrote the essay with former conservative federal judge Michael Luttig, who is now a frequent guest on liberal news stations.
But this theory is another one of the "legal urban legends," that circulate, according to left-leaning George Washington University Professor Jonathan Turley who objected to the proposal in an essay at The Hill.
This 14th Amendment theory is something that good liberals will read to their children at night. It goes something like this: Donald Trump can never be president again, because the 14th Amendment bars those who previously took federal oaths from assuming office if they engaged in insurrection or rebellion. With that, and a kiss on the forehead, a progressive's child can sleep peacefully through the night.
"Despite my respect for these academics, I simply fail to see how the text, history or purpose of the 14th Amendment even remotely favors this view," Turley wrote. He directly challenged Baude and Paulsen's claims that January 6 represented an insurrection.
"If we are to suddenly convert the 14th Amendment into a running barrier to those who seek to challenge election results, then we have to establish a bright line to distinguish such cases," Turley wrote.
"There is a simpler and more obvious explanation for what occurred on Jan. 6, 2021: A political protest became a political riot, and a constitutional theory became constitutional legend," he concluded.
Harvard Professor Emeritus Alan Dershowitz also criticized the insurrection claims.
He wrote in Compact:
Interpreting this post-Civil War amendment as a general provision for disqualifying candidates who some people may believe participated in what they regard as an insurrection or rebellion—as distinguished from a protest or even a riot—would create yet another divisive weapon in our increasingly partisan war.
"Unless an amendment was clearly intended to further limit these qualifications, the voters are the ones to decide who is to be their president," he wrote. "The vague language of the 14th Amendment falls far short of what should be required for so radical a departure from our electoral process."
MORE: UC Berkeley scholar – bar Trump from running in 2024
IMAGE: Evan El-Amin/Shutterstock.com
Like The College Fix on Facebook / Follow us on Twitter