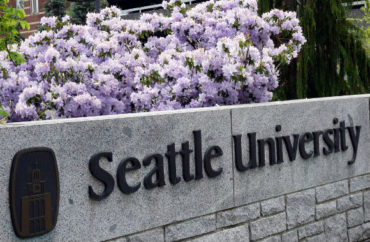 'More conservative' than usual, meaning 'completely balanced'
Seattle University's law school is tying itself in knots trying to explain its role in an immigration debate, scheduled for Monday, that has drawn opposition from the Catholic institution's social justice-minded students.
A spokesperson for the law school said The College Fix received "incorrect information" that it had yanked its co-sponsorship of the event with the school's Federalist Society chapter.
The source of that incorrect information? The law school's dean, Annette Clark.
Clark's email to students last week said the law school had "miscalculated and erred" by having its Access to Justice Institute co-sponsor the event, which was scheduled as part of the law school's Social Justice Mondays series, Bloomberg BNA reported. Events this term have included "Refugee Roundtable" and "Reproductive Justice."
The student chapter of the Federalist Society, a legal organization for conservatives and libertarians, sees the law school's move as an admission that its Monday events are heavily skewed toward progressive viewpoints.
"The event does not violate any aspect of Social Justice Monday," President Thomas Reinhard told The Fix in an email. "Usually, SJM's do not have ideologically balanced programming, so, this event would be more 'conservative,' even though it is completely balanced."
MORE: Public university pays for students' DACA renewal fees
Event will 'go forward under the sole sponsorship of the Federalist Society'
The Monday event is set up as a debate on the Obama administration's Deferred Action for Childhood Arrivals program, which the Trump administration plans to rescind.
Planned several months ago, the event first faced strong pushback two weeks ago when the "Seattle University School of Law Direct Action Committee" posted a Change.org petition to "cancel the Federalist Society's Social Justice Monday."
"We demand change and we demand action," read the original petition, as shown in screenshots posted by Washington Free Beacon reporter Alex Griswold:
We refuse to sit by and let hateful xenophobic and anti-immigrant rhetoric be a part of the culture/message/speech of Seattle University School of Law and Seattle University as a whole.

We demand the school act on behalf of its undocumented students, and instead of co-sponsoring programming which is harmful to them, they should foster an environment which is safe for them and for everyone else on campus.
The body of the petition had been removed Oct. 5 when The Fix viewed it, a day after Griswold posted screenshots. An Oct. 6 archived version shows a blank page. The petition drew more than 200 signatures, and the page has read "Update Forthcoming" for a week.
MORE: White SU dean placed on leave for 'dead white dudes' curriculum
Law students, you see, would not be "safe" if exposed to views critical of illegal immigration. It would be "harmful to them." pic.twitter.com/L7hEK6h290

— Alex Griswold (@HashtagGriswold) October 4, 2017
The petition accomplished its objective when Dean Clark wrote students Oct. 5 to say it could be "painful" and "anger-producing" for them to hear a conservative viewpoint.
In an email quoted by Bloomberg BNA, Clark said that although the event won't be canceled, it will "go forward under the sole sponsorship of the Federalist Society."
The dean explained how President Trump has "generated great fear within vulnerable immigrant communities and has caused real harm, making discussions of immigration policy that include a conservative viewpoint even more painful and anxiety- and anger-producing for those individuals and families who are at risk (and for their allies)."
Because Social Justice Mondays "have traditionally been led by the voices of marginalized students, we should have included them in discussions about why we felt this program was appropriate to be under the auspices of a Social Justice Monday," Clark added.
The dean also gave students an alternative event to attend that wouldn't be painful or anger them.
Clark said the student bar association scheduled an Oct. 19 forum in "anticipation that students will want an opportunity to come together to express their views" on the DACA debate.
MORE: Leaders flood undocumented students with help after DACA drawdown
If future attorneys cannot engage difficult/opposing viewpoints, then the future will be as bleak as current events lead to believe.

— John Edward Pevy (@John_Pevy) October 9, 2017
Whose idea was it to sponsor?
The dean was the one who "suggested last spring that the Federalist Society co-host a Social Justice Monday," chapter president Reinhard told The Fix.
Though it's unusual for Social Justice Mondays to feature a more conservative viewpoint, Reinhard said it would be "a balanced debate on DACA" between two panelists who "support DACA/comprehensive immigration reform in some fashion" but disagree on how to get there.
One is former counsel to Republican Sen. Orrin Hatch, who recently urged President Trump to not rescind DACA and to support legislation that will "provide a workable path forward for the Dreamer population." The other is the director of an immigrant legal services and advocacy group.
The only thing that stands out about the Federalist Society event is its evenhandedness, according to Reinhard.
He believes the student chapter faced "more scrutiny than other student organizations," though he admitted he doesn't have "specific evidence" of this: "But, the process for me has been long and arduous to have an event on campus."
Law school tells grad it has not 'pulled our sponsorship'
The Fix asked the administration for help reaching the committee that wrote the petition, since it had no contact information.
Tina Ching, SU Law director of marketing and communications, offered to reach out Oct. 6 but did not give The Fix an update until Tuesday, when she said the committee was "not interested in commenting."
Asked Thursday if the administration's move would encourage protesters to object to the school's sponsorship of events that are subjectively controversial, such as those featuring pro-choice politicians and activists at a Catholic institution, Ching said the administration "has not encouraged protesters":
The Federalist Society's event is an appropriate program to be held at our law school under the sponsorship of the student organization.
When The Fix asked if Dean Clark pulled back sponsorship because of pushback – since she had told students the event would "go forward under the sole sponsorship" of the student chapter – Ching challenged the question:
You have received incorrect information. The law school is still supporting the program. It is just not being called "Social Justice Monday." The program is still moving forward as scheduled with the law school support.
She has yet to respond to a followup query about why the Social Justice Monday moniker has been removed if the student chapter correctly followed policies and the event still has the school's support.
MORE: Catholic SU welcomes pro-choice, pro-gay marriage socialist to speak
The law school's Facebook "community" page received criticism of its action on the DACA debate. A self-described 1963 graduate of the university and "liberal Democrat" said she was "disappointed in the law school 's rejection of speakers with a conservative viewpoint."
The law school responded that it had "not rejected speakers or pulled our sponsorship" of the event. It used the same boilerplate Ching gave The Fix, calling the event "an appropriate program to be held at our law school under the sponsorship of the student organization":
Students who object have the opportunity to advocate on behalf of their viewpoints, as is appropriate for students who are training to be lawyers.
The response did not attempt to explain how it squared with Dean Clark's statement that the Federalist Society chapter would have "sole sponsorship" of the event.
Ching's boilerplate also showed up in a Wednesday report by Campus Reform.
The law school's action has prompted criticism in some legal quarters.
"I fail to see the basis for the withdrawal of the sponsorship as well as the apology by Clark for the holding [sic] a balanced debate on an issue for great national importance," Jonathan Turley, a high-profile law professor at George Washington University, wrote on his blog this week.
"The debate reflects precisely the mission of higher education to encourage debates on issues that divide our country," he wrote:
We have a duty to approach the subject with respect and consideration for other members of our community. However, that does not mean silencing voices that some deem "anxiety- and anger-producing."
That's funny – protecting allegedly marginalized students by marginalizing other students. Probably not the highest ranking law school.

— Western Republican (@WestRepub) October 10, 2017
MORE: Catholic Seattle University to host drag show
IMAGES: alephnull/Flickr, pd_whitney/Flickr
Like The College Fix on Facebook / Follow us on Twitter