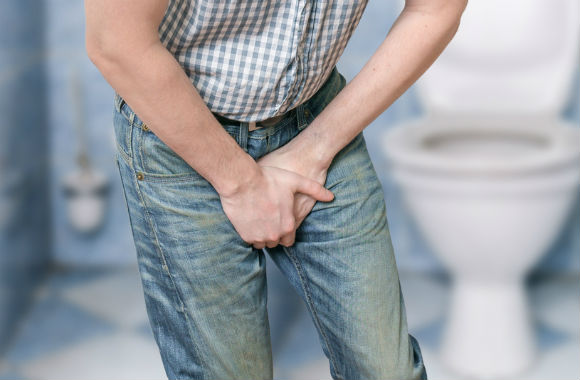 UPDATED
Apparently George Washington University Law Prof. John Banzhaf wasn't the only person irked when the law school turned a multi-user men's room into an "all gender" restroom and put locks on it, telling people to use it one at a time like a single-stall restroom.
Banzhaf emailed this morning saying that a "non-violent student protest" had taken action –  "simply adjusting the entrance door so that it can no longer be locked."
The gadfly professor says it's a "win, win, win, win situation" for all parties:
Although its primary use will still be to permit up to four male students to urinate during restroom breaks in events at the nearby moot courtroom, transgender students may also use it without having to declare (or even necessarily reveal) their transgender status, and they can guarantee their own privacy, if desired, by using its single toilet inside a lockable toilet stall.

Women may also use it without embarrassment, or fear of punishment, if the lines at the nearby women's restroom grow too long, and they can also assure their own privacy by locking the individual stall. …

Female law students will win because, in rare situations when the lines to the nearby women's restroom are just too long, they can duck into the all gender restroom without concern about being embarrassed or even disciplined.  Finally, the law school and university win because they can set an example of how to satisfy transgender students without having to construct new and expensive single-user restrooms.
Banzhaf had previously called people who locked the door behind them "irrational prudes."
The professor told The College Fix in a subsequent email that the door "no longer closes within the door frame" because it has been pulled down on the non-hinge side, as if "a very heavy person" had hung from it.
While he has neither video evidence nor a confession, it must have been students:
It is almost certainly not a coincidence that the "change" occurred just as the Dean posted signs asking men to lock the door when they enter this multi-user restroom with three urinals and a toilet, and I posted signs suggesting to men that it was illogical and selfish to lock out other men likewise waiting to urinate during brief breaks in activities in the nearby moot courtroom.  So it's very clear that this was done deliberately.  Indeed, so far as I know, it has never happened to any other men's room which I have used in more than 40 years at the law school.
He continues that "mature" faculty are too chicken to pull a stunt like this, "especially knowing how reluctant they generally are even to speak up about student concerns on campus," and staff wouldn't risk their jobs:
Indeed, since it probably took at least three people to pull this off – one to serve as a lookout, and the other two to hold and "adjust" the heavy door – it's even less likely that it was faculty or staff or casual visitors.
UPDATE: Banzhaf's explanation of the "adjusting" of the door has been added.  
Like The College Fix on Facebook / Follow us on Twitter
IMAGE: vchal/Shutterstock