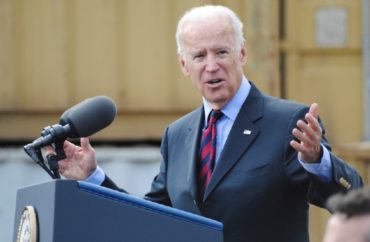 Plaintiff will be forced to pay higher taxes under bailout
Attorneys for the Pacific Legal Foundation filed a federal lawsuit on Tuesday in Indiana to stop President Joe Biden's $500 billion student loan bailout.
The lawsuit, filed on behalf of the legal nonprofit's own employee Frank Garrison, argued that Biden's bailout is a "lawless action" that must be stopped.
The suit argued that Garrison is harmed by the bailout because he will have to pay higher taxes in Indiana on the forgiven loan, despite his participation in a separate, established program that wipes away part of his debt.
"As a part of an existing, congressionally authorized Public Service Loan Forgiveness (PSLF) program, [Garrison] will receive debt forgiveness after making 10 years of payments on his loans," PLF stated in its news release. "The challenged program will stick him with a new state tax bill which he would not have under his existing PSLF program."
The lawsuit challenges the legality of the Department of Education program, created without following the normal steps for issuing new regulations or initiatives.
The DOE "did not undertake the notice-and-comment process required for rulemaking, much less solicit any public input," the attorneys argued in the lawsuit.
"It did not even issue a formal order or directive setting out its cancellation program," the lawsuit stated. "Instead, it issued a press release on August 12th along with two legal memoranda providing its justifications, and, later, a hastily created a FAQ section on its website."
"In the rush, the administration has created new problems for borrowers in at least six states that tax loan cancellation as income," the lawsuit stated. "People like Plaintiff Frank Garrison will actually be worse off because of the cancellation."
"Indeed, Mr. Garrison will face immediate tax liability from the state of Indiana because of the automatic cancellation of a portion of his debt," attorneys argued. "These taxes would not be owed for debt forgiveness under the Congressionally authorized program rewarding public service. Mr. Garrison and millions of others similarly situated in the six relevant states will receive no additional benefit from the cancellation—just a one-time additional penalty."
"Nothing about loan cancellation is lawful or appropriate," the attorneys argued. "In an end-run around Congress, the administration threatens to enact a profound and transformational policy that will have untold economic impacts. The administration's lawless action should be stopped immediately."
The White House challenged the assertion that anyone will be forced into the program during a press briefing on Tuesday.
"Opponents of the Biden-Harris Administration student loan plan are trying to stop it, because they know it will provide much needed, again, relief for working families," Press Secretary Karine Jean-Pierre said. "Anyone who does not want to get that debt relief, can choose to opt out."
MORE: Student loan bailout drops when people find it might raise taxes
IMAGE: Marlin 360/Shutterstock.com
Like The College Fix on Facebook / Follow us on Twitter