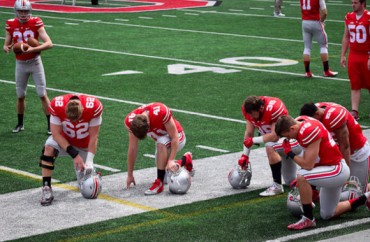 'Baldly unconstitutional' new policy
Former Bremerton High School football coach Joe Kennedy saw no reason to obey the school's demand that he stop praying at the 50-yard line after games.
No one had complained – in fact, players had asked to join the Christian coach in prayer after he started going alone. But the Bremerton School District put him on administrative leave as a result and then declined to renew his coaching contract.
Following an antidiscrimination complaint to the Equal Employment Opportunity Commission in December, Kennedy is now suing the Washington State school district for violating his First Amendment rights, The Daily Signal reports.
MORE: Air Force team cleared to pray before, after games
Key to his federal lawsuit is the school's alleged preferential treatment for a coach of a different religion:
According to the lawsuit filed for Kennedy by First Liberty Institute, a conservative legal organization dedicated to protecting religious freedom, other coaches at Bremerton High School "have also engaged in religious expression."

Assistant coach David Boynton, for example, "has engaged in a Buddhist chant near the 50-yard line at the conclusion of many BHS games," and has continued to do so despite the suspension and firing of Kennedy, according to the suit.
First Liberty claims Kennedy had lifted up a "quiet, 30-second prayer" at the 50-yard line for seven years before he was suspended Oct. 28.
The lawsuit says the school district admitted there was "no evidence" that any student felt "coerced" to participate, yet changed its own policy to force Kennedy to violate his conscience:
BSD purported to prohibit on-duty school employees from engaging in any and all "demonstrative religious activity" that is "readily observable to (if not intended to be observed by) students and the attending public." …

The District later retaliated against Coach Kennedy by giving him a poor performance evaluation—for the first time in his entire BHS coaching career—and then firing him because he purportedly "failed to follow district policy."
Kennedy v. Bremerton School District by The College Fix on Scribd
The suit calls the new policy "baldly unconstitutional":
On its face, BSD's policy would prohibit all on-duty school employees, while in view of any student or member of the community, from making the sign of the cross, praying towards Mecca, or wearing a yarmulke, headscarf, or a cross.
Kennedy told The Daily Signal he just wants his job back:
After the 2015-16 season ended, he said, "you just try to put [the situation] in the back corner somewhere, where you don't even think about it."

But now, with a new football season about to begin, Kennedy said he's having a "tough time."

"I see all the posts of all my guys … and I'm not part of it, it's just, it leaves a hollow place inside your heart," he said.
Read the lawsuit, First Liberty's case file and Daily Signal story.
MORE: University of Tennessee spurns atheist threat over football prayer
Like The College Fix on Facebook / Follow us on Twitter
IMAGE: Paula Lively/Flickr