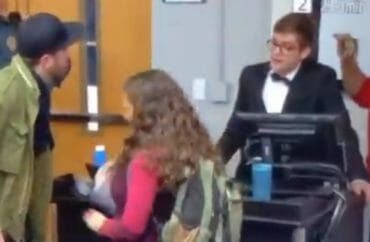 'Fighting words' doesn't even cover threatening a cop
Catherine Gregory, an adviser at Quinebaug Valley Community College, says she's been getting international support for absconding with a conservative speaker's notes at the University of Connecticut two weeks ago.
What she's not getting is quality legal representation.
Gregory learned at a court appearance this week that her criminal case is being continued until Jan. 9. According to the Hartford Courant, she thanked "everyone from around the world for their support and solidarity in the struggle against racism and fascism."
Then her lawyer laid out at his strategy for beating attempted-theft and disorderly-conduct charges:
"There is a difference between protected hate speech … and when that language goes to invective against individuals, that's considered fighting words and is not protected by the First Amendment," said attorney Jon Schoenhorn. "What occurred at UConn while Wintrich was speaking went to specific insults and invective against individuals based on racist statements and homophobic statements and we intend to defend and demonstrate that to justify the actions of Ms. Gregory."
MORE: Gregory charged with attempted theft for taking Wintrich's notes
That's a losing strategy.
As the Foundation for Individual Rights on Education explained 11 years ago, the "fighting words" exception has been practically nullified by subsequent Supreme Court rulings.
The original Chaplinsky ruling (1942) created two categories of unprotected speech: "words that by their very utterance inflict injury" and "speech that incites an immediate breach of the peace."
Seven years later the high court overturned the conviction of a preacher who gave a fiery public speech, saying the point of free speech was to "invite dispute," even (or especially) when it "stirs people to anger." (Nice job, Lucian.)
MORE: Wintrich shouted down, arrested during 'It is OK to Be White' event
A year apart, the high court overturned the conviction of a Vietnam War protester who wore a jacket labeled "Fuck the Draft" in a courthouse (Cohen), and then a fighting-words charge against a man (Gooding) who assaulted a police officer:
Gooding shouted, "White son of a bitch, I'll kill you." "You son of a bitch, I'll choke you to death." and "You son of a bitch, if you ever put your hands on me again, I'll cut you all to pieces." If this speech doesn't constitute fighting words, one would be hard-pressed to think of speech that would qualify.

Gooding was the nail in the coffin—if the fighting words exception has any real vitality left at all … the Supreme Court has effectively limited the exception to only include abusive language, exchanged face to face, which would likely provoke a violent reaction.
The conservative speaker, Gateway Pundit journalist Lucian Wintrich, was giving a speech titled "It's OK to be white" at the invitation of a campus group. It's hard to see how anything in his speech could qualify as fighting words under the extremely high bar in place for 45 years.
In contrast, student protesters repeatedly hurled slurs at Wintrich and someone set off a smoke bomb outside his lecture. Only when Gregory stole his notes did Wintrich respond with his own action. He got arrested for breach of the peace, but that charge was dropped, and now only Gregory remains in legal peril.
Also a bad sign for Gregory: According to FIRE, "Federal courts have refused to use the fighting words doctrine as a justification to uphold university speech codes that regulate offensive or indecent language."
She might want to find a new lawyer.
Read the Courant report and FIRE's fighting-words analysis.
MORE: UConn students hold 'Meeting of Healing' following Wintrich visit
Like The College Fix on Facebook / Follow us on Twitter