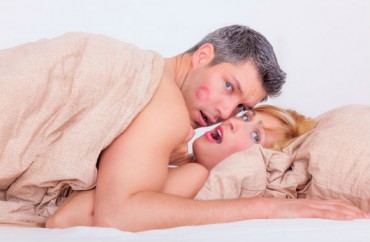 Lawmaking is put to the test where the rubbers meet the road (sorry, bad pun).
New York University students interviewed on camera by Shelby Emmett, of the Foundation for Individual Rights in Education, proved that Democratic New York Gov. Andrew Cuomo and supportive lawmakers failed to design an intelligible "affirmative consent" law.
Supporters of the supposedly simple "yes means yes" standard for sexual consent knew they couldn't get a bill through the Legislature that micromanaged sex too closely in the statutory language, so they left much of the law subject to individual interpretation.
RELATED: Law professors line up against New York's new campus sexual-assault law
This is evident when NYU students are asked to define the reach of terms such as "clear permission" and "sexual activity":
[S]tudents were split about whether something as ubiquitous as kissing counted. Answers ranged from a shaky "I think so?" to a firm "definitely" to a non-committal "no, not really."
What's interesting about the student answers is they aren't even consistent by gender – not all women consider "kissing" a sexual act (requiring prior consent), and some men think it is.
One female student said she considered it "cheesy" when a guy asks if he can kiss her – which is legally required to be consensual under some interpretations of the new law.
RELATED: Northeast states consider measures to prejudge students accused of rape
Another female student says that even verbal consent can be negated by body language, because "people can say something and not really mean it."
Students were "stumped" when asked how they would prove they had a partner's consent if challenged later. And let's not even start with the fuzzy-to-the-point-of-hirsuite line between "intoxicated" (OK) and "incapacitated" (rape).
Because the law isn't clear, some students are practicing extra caution
As we've noted before, a University of Albany male student told The New York Times that he asks for consent "once or twice during sexual encounters with women he knows well, and four or five times during more casual or first-time hookups."
Of course, because consent can be revoked at any point – using cues that may be imperceptible to one partner – anything less than a steady stream of "yes" to continue sex (which must also be "enthusiastic" at some colleges) is technically rape on campus in New York.
Like The College Fix on Facebook / Follow us on Twitter
IMAGE: altafulla/Shutterstock