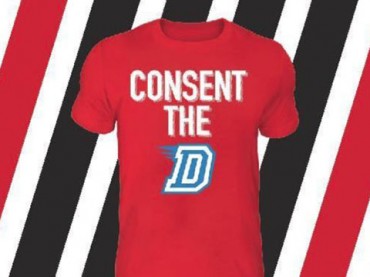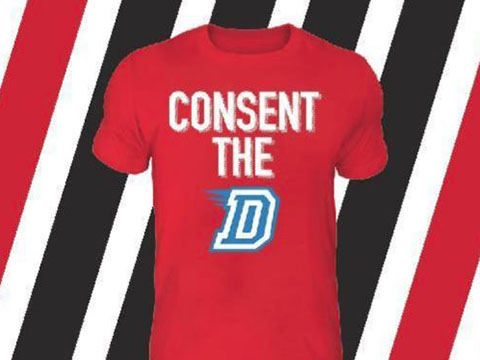 A male-led campaign to promote affirmative consent for sex at DePaul University – which is nominally Catholic but runs a "Queer Peers" mentorship program – has thrown in the towel.
Or rather, the T-shirt.
Selling shirts emblazoned with "Consent the D" – a play on the school's basketball slogan "Fear the D" (the Demons mascot) that was widely interpreted as "dick" – came off as "flippant" to campus feminists, who didn't take kindly to an alternative approach to their signature issue, Jezebel says:
"Unfortunately, the 'Consent the D' movement was cut short by forces outside of my control," founder Randy Vollrath said in a video message posted Tuesday. "T-shirt production has been halted while we work to address the issue."
Vollrath said he appreciates that people didn't like the T-shirts but objects to their disagreement being"misinformed" about the group's intentions.
The DePaulia said the sale of T-shirts raised about $300 after production costs. That money will be given to Rape Victim Advocates, "assuming the shirts go out," Vollrath said – raising the possibility they won't be shipped.
The paper cites Adina Babaian, a member of the campus chapter of Feminist Front, who speculates that the shirts ran into trouble because of trademark issues with the school. She accuses Vollrath of insensitivity:
"[Vollrath's] response didn't acknowledge why people thought Consent the D was a negative movement," Babaian said. "(He) had been approached by activists on campus telling him that the shirts had triggered victims and survivors of sexual violence. And although he seemed to initially respect that, he was seen the next day wearing the shirt, which shows a direct disregard for the people they were supporting."
Word to bros: Don't pretend to be a leader in the affirmative consent movement. Like sex itself, your intentions could be wildly misinterpreted.
Read the Jezebel and DePaulia articles.
Like The College Fix on Facebook / Follow us on Twitter
IMAGE: Consent the D