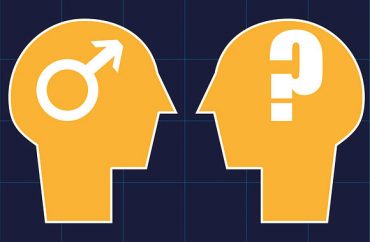 Campus activist organizations across the country cannot agree on the basic tenets of transgender ideology
UPDATED
With LGBT groups organized at many major universities across the country, and an increasingly vocal and determined activist constituency advancing their demands, a pertinent question remains arguably unanswered: How do LGBT representatives define "transgender?"
The varying definitions haven't stopped transgender activists from making gains at campuses across the country in recent years.
Last year, the University of South Alabama permitted men who identify as females to use women's restrooms, while the University of Missouri Kansas-City allows students to choose their housing based on their gender identity. A number of universities, meanwhile, allow students to officially identify themselves as neither male nor female.
Many college LGBT organizations offer a list of common terms associated with gay, lesbian, bisexual and transgender issues. These glossaries, however, are often in stark disagreement on the precise definition of "transgender" and how the phenomenon manifests itself.
Michigan State University's "LGBTQ Glossary," available through its Lesbian, Bisexual, Gay, and Transgender Resource Center, was created in 2004. "Some of the definitions [in the glossary] are crafted by our team," Deanna Hurlbert, director of the LBGT Resource Center at MSU, told The College Fix via e-mail, "but most are from a wide variety of sources." According to a footnote within the document itself, the glossary draws its resources from MIT, George Washington University and Bowling Green State University, among other schools. Wikipedia is also listed as a resource.
MSU defines transgender as "A person who identifies witha [sic] gender other than that [sic] the gender they were assigned at birth."
This definition stands in contrast to that found at the University of California-Berkeley. The "definition of terms" listed at the school's Gender Equity Resource Center says that transgender people "are those whose psychological self ('gender identity') differs from the social expectations for the physical sex they were born with."
While Michigan State's definition refers to one's "gender … assigned at birth," and UC-Berkeley refers to "the physical sex [one is] born with," the terms are not actually interchangeable. Both glossaries make a clear distinction between "sex" and "gender," the former defined as "a medical term," the latter defined as a social phenomenon.
Hurlbert told The College Fix: "We need find and correct our definition…To be accurate it should read 'A person who identifies with a gender other than that [sic] the gender associated with the sex they were assigned at birth.'"
As of Sunday evening, the definition remains uncorrected on MSU's website.
Other interpretations of "transgender" further complicate the precise definition of the term. The University of North Carolina-Chapel Hill's LGBT Center says the term "refers to people who experience their gender identity or express their gender in ways that do not conform to their assigned sex at birth."
Neither Michigan State nor UC-Berkeley lists one's "expression of gender" as a qualifying feature of transgender status; UNC-Chapel Hill, meanwhile, has the only definition among the three that currently refers to "assigned sex at birth."
An article written by academic sj Miller, published in the University of Georgia's Journal of Language & Literacy Education in 2015, defines transgender as "the experience of having a gender identity that is different from one's biological sex. A transgender person may identify with the opposite biological gender and want to be a person of that gender."
By saying a transgender person's gender identity is "different from one's biological sex," the Journal of Language & Literacy Education's distinguishes itself from the others: UC-Berkeley makes reference to the "social expectations" associated with one's sex, while Michigan State's forthcoming revised definition claims transgender individuals do not experience "the gender associated with the sex they were assigned at birth."
None of the glossaries outside of Miller's journal article makes a direct comparison between "gender" and "sex," two categories that all four glossaries note are entirely distinct. Indeed, the article's catalogue of definitions itself defines "gender" as "socially constructed roles" and "sex" as "biological traits," so it is not clear how one's "gender identity" could ever technically be "different" from one's "biological sex," as they are not like concepts.
UNC-Chapel Hill, meanwhile, mentions not "biological sex" but "sex assigned at birth," and the Journal of Language & Literacy Education article is the only source to mention "biological gender" – a term which it doesn't bother to define.
Reached by email, journal author sj Miller told The Fix that Miller "pulled ideas from here and there" while writing the glossary, using "gender studies anthropology cultural studies queer studies different websites and organizations [and] scholarly places."
Terri Phoenix, director of UNC's LGBTQ Center, told The Fix via email that "numerous sources were consulted" regarding the center's definition of transgender, including "discussions with people who self-identify as transgender [and the] National Center for Transgender Equality."
The Fix reached out repeatedly to officials at the UC-Berkeley LGBT center for comment regarding the school's definition of "transgender" and the sources Berkeley used to compile its glossary but did not receive a response.
UPDATED: This article originally ascribed the pronoun "he" to writer sj Miller. Miller, however, does not use pronouns. The article has been amended to reflect this.
Like The College Fix on Facebook / Follow us on Twitter