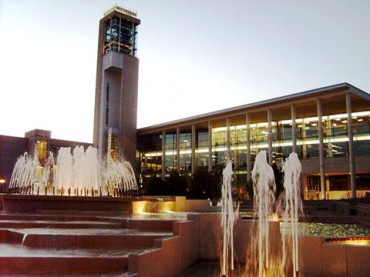 School president blasts LGBT demands that student be removed from campus banner
Members of the LGBT community at Missouri State University are demanding the school retaliate against a student leader for her off-campus activism against a local ordinance that could harm religious freedom.
That demand has fallen on deaf ears with the university administration, however.
A petition posted Wednesday on Change.org, originally titled "#TakeLindseyOffCarrington" but since changed to "#AccurateRepresentationMSU," asks the school to remove a banner from its signature building, Carrington Hall, depicting "university ambassador" Lindsey Kolb.
As of Sunday night, the petition had 873 signatures.
Providing little context for its subject or a clear articulation of its demand, the petition was posted the day after Springfield residents voted to repeal a city council ordinance that banned discrimination based on sexual orientation and gender.
Proponents of repeal have argued the ordinance did not provide substantial religious exemptions for businesses and individuals.
Removing the banner of Kolb would "send a message of cultural competence and not advertise someone who has no respect for a culture different from their own," petition author and MSU student Connor Hayes wrote at Change.org.
Kolb told The College Fix her opponents have mischaracterized her beliefs and her faith.
"I advocated for repeal because I believe in religious freedom," said Kolb in a statement. "A Church should not be forced to host a LGBTQ wedding. A cake shop should not be forced to make a cake for a LGBTQ couple's wedding."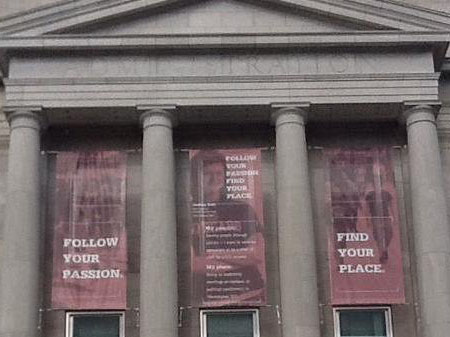 'It is my God-given right to hate whomever I want'
Kolb wears many hats, according to her LinkedIn page: state chairman of the Missouri Federation of College Republicans and president of MSU's chapter, receptionist for the dean of students and office of admissions, member of the student government cabinet, and even "campus ambassador" for a clothing brand.
She initially came under fire after taking issue with a satirical op-ed in The Standard by Caleb Hearon, which mocked Christians who favored of repeal of the Springfield ordinance.
"Repealing this protects religious freedom. It is my God-given right to hate whomever I want. Can I get a yee-yee?" Hearon wrote.
"Christians do not hate the LGBTQ community," Kolb wrote in an op-ed rebutting Hearon's. "They are not called by God to both judge and marginalize. Rather, they are called first to love all people, regardless of their lifestyle, and to serve God."
She criticized Hearon for turning "the civic discussion of LGBTQ equality and public policy into a roast of Christians," calling on "the entire community to engage in civil discourse regarding this topic."
'Bullied'
Though Hayes' petition says its goal "is not to make Lindsey a scapegoat for the way the [Springfield ordinance repeal] vote turned out," it continually returns to Kolb, calling her unfit to represent the university.
"Her remarks in the past do not exemplify an ethical leader by ostracizing and discriminating against current and prospective students who identify as member or ally of the LGBT+ community," it states. "For Missouri State to continue to endorse her discriminatory views is effectively showing that they do not in fact value ethical leadership."
Kolb told The Fix she feels "bullied" by the petition.
"The people who started this petition did not personally know me, my convictions, and completely took my views out of context," she said.
Her opponents have taken to Twitter, using the hashtag #TakeLindseyOffCarrington and labeling her an "awful individual" and a "bigot" among other slurs.
Counter-petition denounces 'vicious cyber-bullying campaign'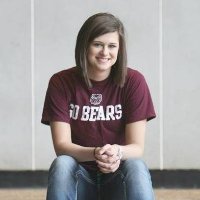 Kolb does have one influential voice in her corner.
University President Clif Smart decried those attacking Kolb in a Wednesday night blog post.
"In the same way that discrimination will not be permitted at Missouri State, we will also not permit retaliation based on someone's political or religious beliefs or advocacy efforts on this or any other political issue," Smart wrote.
He said the university's "public affairs" mission – the petition's stated rationale for removing Kolb's banner – "is not a weapon to be wielded when we work or study with those who have different ideas, beliefs or values than our own."
Discouraging people from speaking openly is not what Missouri State is about, Smart continued: "We do not behave as ethical leaders when we seek to stifle free expression or punish those who advocate for particular viewpoints."
An anonymous counter-petition by "Supporters of Lindsey Kolb" was posted to Change.org Thursday, using the #StandWithLindsey, in response to Hayes' petition.
That petition accuses the campaign against Kolb of "gross intolerance" and says "there's no excuse for targeting one student with such a vicious cyber-bullying campaign."
Kolb, "by the way, isn't even registered to vote in Springfield," the counter-petition reads. It had 651 signatures as of Sunday evening.
I just went through and read every #StandWithLindsey petition comment from today and I'm literally moved to tears. Thank you all so much.

— Lindsey Kolb (@lindsey_kolb) April 9, 2015
Kolb expressed her gratitude, tweeting Wednesday night that she was "literally moved to tears" after reading the counter-petition's comments of support.
And while Smart's intervention on her behalf suggests Kolb's banner will remain on Carrington Hall, "If it ever comes down to me having the freedom of speech and religion or having a banner on campus, I choose my faith and freedom every time," Kolb told The Fix.
College Fix reporter Nathan Rubbelke is a student at Saint Louis University.
Like The College Fix on Facebook / Follow us on Twitter
IMAGES: BixB/Wikimedia Commons, Change.org, Lindsey Kolb's LinkedIn page