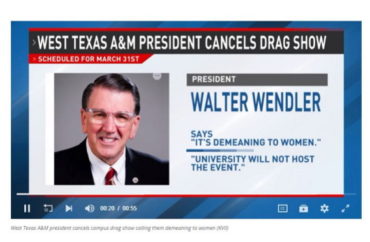 Judge says LGBT group failed to argue a First Amendment right to promote 'lewd' conduct
A federal judge denied a motion from LGBT students to allow them to host "lewd" events at West Texas A&M University.
U.S. District Judge for the Northern District of Texas Matthew Kacsmaryk declined to issue a preliminary injunction that would stop the university from preventing drag shows in the future as the legal battle continues.
The university's president, Walter Wendler, halted a drag show in March but the group, Spectrum WT, ended up hosting it off of campus.
"Because men dressed in attire stereotypically associated with women is not 'overtly political' in a category of performative conduct that runs the gamut of transvestism… it is not clearly established that all drag shows are inherently expressive," the judge wrote.
He also criticized attorneys for the students for not providing a strong First Amendment analysis of the issues. He wrote that "using 'textbook' as an adjective is no substitute for the forum analysis required in a Free Speech campus case."
President Wendler did not act in an "objectively unreasonable" way, the judge also ruled. This is because he "knew of potential lewdness which is prohibited under school policy."
Right now The College Fix has a back-to-school campaign to help us continue to support our amazing student journalists. A donation today will be matched thanks to a generous limited-time matching gift opportunity from a friend of The Fix! CLICK HERE for more details — and thank you!
"And the First Amendment does not prevent school officials from restricting 'vulgar and lewd' conduct that would 'undermine the school's basic educational mission,' – particularly in settings where children are physically present," the ruling stated.
The Foundation for Individual Rights and Expression, which is representing the LGBT students, criticized the ruling.
"FIRE strongly disagrees with the court's approach to First Amendment analysis and its conclusions," the group's attorney stated. "We will appeal, and our fight for the expressive rights of these brave college students will continue."
Wendler originally compared the drag show to blackface minstrel shows and said they degraded women. "I believe every human being is created in the image of God and, therefore, a person of dignity," he stated in March. "Being created in God's image is the basis of Natural Law. James Madison and Thomas Jefferson, prisoners of the culture of their time as are we, declared the Creator's origin as the foundational fiber in the fabric of our nation as they breathed life into it."
"Any event which diminishes an individual or group through such representation is wrong," he stated. "I registered a similar concern on campus when individuals debased Latinas regarding a quinceañera celebration. Should I let rest misogynistic behavior portraying women as objects?"
"WT endeavors to treat all people equally. Drag shows are derisive, divisive and demoralizing misogyny, no matter the stated intent," he said. "Such conduct runs counter to the purpose of WT. A person or group should not attempt to elevate itself or a cause by mocking another person or group.
"As a university president, I would not support 'blackface' performances on our campus, even if told the performance is a form of free speech or intended as humor."
MORE: Professor matches LGBT adults with teens for online 'mentoring'
IMAGE: KVII ABC News
Like The College Fix on Facebook / Follow us on Twitter