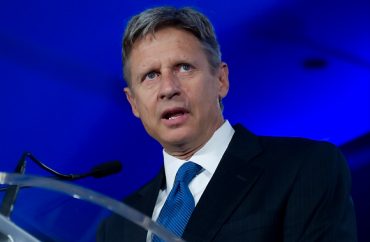 Young people still feel the Bern
Hillary Clinton's lead over Donald Trump among millennials who are likely to vote has shrunk by more than 10 percentage points in the past few months, according to a new poll by the Harvard Institute of Politics.
Perhaps even more surprising is that Libertarian Party nominee Gary Johnson is running neck-and-neck with Republican Trump among multiple groups of voters ages 18-29, the poll found.
The poll's findings on millennials' feelings about capitalism and the most important factors in their vote will be released by the institute next week.
Democrat Clinton maintains a strong yet shrinking lead against Trump in the 2016 presidential race. An institute poll in April found Clinton favored by 61 percent of likely millennial voters, and Trump 25 percent.
The new poll, by contrast, shows Clinton's support plunging by 16 percentage points, down to 45 percent, while Trump's support has only dropped two points to 23 percent.
Institute Polling Director John Della Volpe told The College Fix in a phone interview that likely voters were defined as millennials who, when asked, said they would "definitely vote" in the election.
MORE: Socialism more unpopular than capitalism with millennials
Clinton's lead over Trump is even less pronounced among all millennial voters, as opposed to those considered likely to vote: 34 percent to 17 percent.
In contrast to Trump, Johnson does better with all millennial voters (15 percent) than likely voters (13 percent). Both of these figures are several points higher than Johnson's tally in a RealClearPolitics average of national polls conducted between June 24 and July 12.
Johnson is only two points behind Trump among both all millennial voters and men (15 percent), and just three points behind among women (11 percent). He's out-polling Trump among blacks (9 percent to 2 percent) and Hispanics (14 percent to 5 percent).
The institute poll was not concerned solely with college students. As a survey designed to represent all Americans aged 18-29, only 22 percent of respondents were currently enrolled in a four-year college or university.
The poll also assessed issues other than who millennials will likely vote for, including religious preferences, "favorability" ratings of candidates and likely voter turnout.
MORE: Trump top choice among young Republican voters
About three in five millennials claimed some sort of religious preference, with Catholics as the single largest group at 24 percent, while 27 percent of millennials reported "no religious preference" at all.
The candidate with the highest net favorability ratings is the one that left the Democratic race after the polling was completed July 3.
Bernie Sanders alone is better liked than disliked among millennial voters, with 54 percent calling him favorable. The two presumptive nominees, Clinton and Trump, scored poorly by comparison, with 60 percent and 74 percent of millennials rating them unfavorable.
How millennials feel about the candidates may not matter given their likelihood of voting: Only 47 percent of millennials said they would definitely vote in the presidential election in November. Another 14 percent said they would "probably" vote and 15 percent more said the odds of their voting were 50-50.
Polling Director Della Volpe said the institute's voter turnout figures have proven accurate in the past, particularly in the 2012 election season. It will conduct another poll of millennials in the fall, and the voter turnout figures from that poll will be the most accurate, he said.
MORE: We should fight ISIS – except not really 'us,' say millennials 
Like The College Fix on Facebook / Follow us on Twitter
IMAGES: Christopher Halloran/Shutterstock, Joseph Sohm/Shutterstock