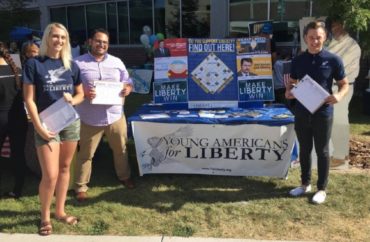 Libertarian students at Auburn University want administrators to reverse a ban on legal tasers and knives in the interest of student safety.
The campus Young Americans for Liberty club has an ongoing petition campaign that asks the public university in Alabama to allow the carrying of self-defense weapons.
"Between 2014-2019 according to the required crime report released by the university, Auburn was averaging around 10 rape cases and 14 aggravated assault cases per year on campus," the petition says. "The lack of ability for students to have basic self defense methods will only cause this average number of cases to rise."
An article in the Auburn Plainsman lists 12 rapes in 2018, 13 in 2019 and 10 in 2020. There has been an average of 18 aggravated assault cases since 2018, and the university's annual crime report only covers those past three years.
"Auburn University has failed to protect its students against theft, violence, and even rape on campus," student activist Ava Marano said in a statement provided to The College Fix.
"Defending oneself is the most important right we have, and Auburn University students should unquestionably be permitted to defend themselves on campus at the most basic level. This policy needs to be changed now," she said.
The petition has over 1,200 signatures as of January 24. The group plans to start another push for signers today.
Her petition says students should have "unrestricted access on campus to arm themselves with non-lethal self defense tools, such as tasers" and "unrestricted on campus access to carry either fixed or unfixed blades 4-inches or smaller without the handle, for the purpose of self-defense."
Students should be able to carry those implements in "all campus facilities including but not limited to, administrative offices and buildings, classrooms, dining halls, and exercise facilities.."
YAL provided The Fix with a copy of its proposed policy reform.
The university's media office would not say if it planned to meet with YAL activists or if the school had read the petition.
"The policy you've referenced has been in place since 2013," spokesperson Mike Clardy said in an email to The Fix. "Any student wanting a better understanding of it can reach out to the Office of Campus Safety and Security."
"The chapter has still received no response from the administration," a YAL spokesperson told The Fix on January 24.
"The University believes our chapter is a student group that can be waited out, that will go away given enough time," the national YAL organization told The Fix on January 24. "Unfortunately for the Auburn administrators, YAL trains its activists to be relentless and goal-oriented. Our Auburn chapter is identifying the methods that will take down this policy and organizing themselves to take action and get the job done."
MORE: UC-Berkeley changes club policy to settle YAL lawsuit
IMAGE: Young Americans for Liberty/The Review
Like The College Fix on Facebook / Follow us on Twitter