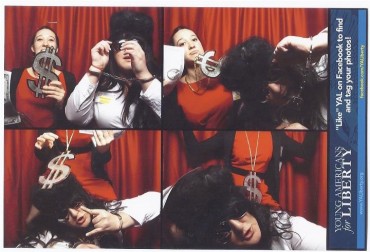 At age 76, Ron Paul may be the face of libertarianism today. But if there is a white, stodgy, old-man stereotype associated with libertarianism, it was surely overturned this past weekend at the Fifth Annual International Students For Liberty Conference, held at the Grand Hyatt in Washington D.C.
Students For Liberty is a 501(c)(3) nonprofit "whose mission is to provide a unified, student-driven forum of support for students and student organizations dedicated to liberty." SFL does this by providing students with training, resources and networking.
Diversity was evident at the packed Students For Liberty (SFL) conference, with over one thousand students in attendance, as well as donors, sponsors and exhibitors such as Cato, Young Americans For Liberty, Institute for Humane Studies, Charles Koch Institute, The Libre Initiative, GOProud, Law Enforcement Against Prohibition, Liberty Fund, Seasteading Institute, National Rifle Association, Stop Abusive and Violent Environments, Antiwar.com/Ladies of Liberty Alliance, Institute for Justice and many more.
The weekend was crammed with speakers and breakout sessions. And the opportunities for students to network, learn, and have fun were seemingly endless.
There was plenty of serious policy discussion. Students, journalists, and academics led the breakout sessions this year and they covered a variety of topics. From "How the Government Plans to Regulate your Sex Life" to "The Tea Party and Occupy – Can Both be Right?" and "Liberaltarians: Examining Liberty Through the Gender/Race/Class Lens" to "The Militarization of Main Street," the sessions were engaging and thought provoking.
But lectures and policy debates weren't the only thing going on. Giveaways, socials, a straw poll (the first SFL straw poll ever), the filming of the Stossel Show, and a popular Young Americans For Liberty photo booth complete with zany props, contributed to a relaxed and upbeat atmosphere.
Students who may feel alienated on their campuses because of their political views, race, sex or class came together in one place this weekend for one common goal: to advance liberty. Unified through this goal, students were able to learn from their differences, and experience the wide range of views and backgrounds that fall into the libertarian camp.
If there is one takeaway from this year's conference, it is that the banner of individual liberty, peace, and free markets, is one that many can gather under.
Fix contributor Judith Ayers is a student at York College of Pennsylvania.
Like The College Fix on Facebook / Follow us on Twitter