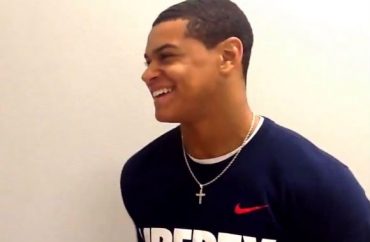 Evangelical powerhouse lost court ruling last summer
Liberty University refused to wait for a police investigation to end before it expelled a football player on allegations of sexual assault.
Only hours after his expulsion, Cameron Jackson was informed by the city attorney that "no criminal charges would be filed." Police had found "no evidence" to back the claims against him, according to Jackson's suit against the evangelical powerhouse nearly a year ago.
Seven months after a federal court let several of Jackson's claims proceed against the university, the parties have settled, according to a stipulation posted by Brooklyn College Prof. KC Johnson, co-author of The Campus Rape Frenzy.
Jackson initially sought more than $100 million in damages from the university, his accuser and specific Liberty officials, saying they cost him an NFL career.
Last August a federal court paved the way for seven claims to move forward: four defamation claims "related to a university news release" and two more against the accuser, and a Title IX claim against the university, according to The News & Advance.
Jackson voluntarily dropped the Title IX claim last month, and last week he and the school agreed to resolve the remaining defamation claims and dismiss the case. All claims have been dismissed "with prejudice," meaning Jackson can't bring them again in a future lawsuit.
The parties didn't disclose financial terms and said they would bear their own costs and fees.
Two recent settlements in due process lawsuits–Clemson and Liberty.
cc: @danbauman77 pic.twitter.com/NvwmhajrJ7

— KC Johnson (@kcjohnson9) March 29, 2018
Two other ex-football players suing the same parties voluntarily resolved their lawsuits against Liberty two days later, according to The News & Advance. All were scheduled to go to trial this fall.
Jackson, Kyle Carrington and Avery James separately accused Liberty of botching their sexual-misconduct investigations and crippling their future careers and earnings by applying a notation to their transcripts that they were found responsible for sexual assault under Liberty's own procedures. The university has since removed the notation.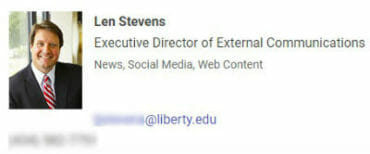 They all sued Liberty spokesperson Len Stevens (left) for identifying them as rapists in a news release without noting they all claimed innocence and were appealing the findings.
Jackson's lawsuit said Liberty was determined to make an example out of him because it had hired away a new athletic director from Baylor University, at the time dealing with the fallout of a massive sexual-assault scandal in the athletic department.
The evangelical university, known for its president's closeness with President Donald Trump, wanted to "preserve its own public image as a Christian university" by tarring Jackson as a rapist, he claimed.
Jackson said his accuser, another student athlete with whom he was involved in a "non-exclusive sexual relationship," had ulterior motives for accusing him.
She had already been dismissed from the school "after multiple student violations," and she conspired with other females to falsely accuse players to Liberty officials but not law enforcement, so as not to open their false claims to real scrutiny.
Read recent News & Advance coverage and last summer's report.
MORE: Liberty expelled Jackson for rape with 'no evidence'
IMAGE: Edwin Garrett/YouTube, Liberty University
Like The College Fix on Facebook / Follow us on Twitter