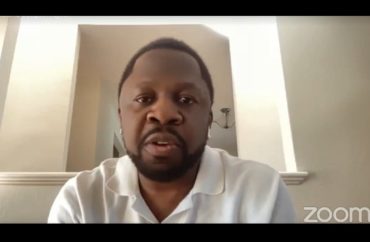 Professor lists 'sacrificial negro,' as one example of a 'racist trope.'
Expert panelists with Louisiana State University and Loyola University New Orleans recently discussed the issue of "racist tropes" in "black horror film."
"Looking in a Mirror: How Black Horror Film Supports Racist Tropes" is the second part of LSU's three-part racism series. The "Racism: Dismantling the System" series began in early September and will continue through mid-November. The next topic is how to talk to elected officials.
The College Fix spoke to Loyola Professor Ty Lawson, who moderated the October 25 event, about some of the tropes. He is a professor in race and culture in media at the Catholic university.
"The 'sacrificial negro' is a constant racist trope in horror films – the token black character or characters get killed off," Lawson told The Fix via email. "Throughout the history of the horror film genre in America, racial minorities did not receive as much representation as white people and were often relegated to lesser roles compared to white characters."
"The history of racism within the horror genre subsequently depicted black men as monstrous or alien," the professor told The Fix. "Black women are often seen as best friends, mystics, or suspicious maids. Mystics' role in horror films is most prominently given to black women, and their only purpose is to serve their white counterparts until no longer needed."
"No matter how crucial these characters actually are to the survival of the story's protagonists, they are usually killed off once they've served their purpose," Professor Lawson said.
However, some black filmmakers are using horror films to generate discussions about racial issues.
"We see what's being done about [racist tropes] with films such as 'Get Out' and 'Us' subverting the genre and using it as a social commentary to discuss race," Lawson told The Fix. "Filmmakers like Jordan Peele are using horror as a way of expressing deeply rooted real-life fears regarding racism and race relations. They are taking a subject that some find uncomfortable to talk about and making it unapologetically part of everyday conversations."
The October 25 virtual discussion intended to "investigate the popularity of Black horror films and discuss the danger of plots and scripts that perpetuate harmful stereotypes of BIPOC people as disadvantaged or oppressed" with expert panelists, according to a news release from LSU.
Film director Emmanuel Osei-Kuffour gave the example of a movie that focused on black stories and promoted themes familiar to a black audience such as "family drama."
"Every other race or non-black filmmakers get a little more leniency when it comes to theme and subject matter, and for some reason, when we're given a movie or TV show or any big opportunity, race seems to be a big factor," Osei-Kuffour (pictured) said at the event.
The director shared that he was able to subtly talk about issues of race in the movie, while still focusing on other important issues about mental health.
"I didn't go out to make a color-blind film, I really wanted [the main character] Nolan to be black," he said. Viewers will recognize how Nolan is treated differently for being black, the director said. But the film was not overtly about racism, the director said.
Movies regularly contain tropes, whether it's about evil Russians, stereotyped versions of Italians or portraying black individuals as acting out and being "silly," one panelist said at the end of the event.
"In horror, if you have sex, you die. [If you're] black, you die in the first scene. Whenever there's inequality, new tropes get built for the same people," actress Geretta Geretta explained.
The Fix reached out to LSU via email to ask what should be done about racist tropes in horror movies, but received no response.
MORE: College apologizes for operetta it staged 11 years ago
IMAGE: Louisiana Budget Project/Facebook
Like The College Fix on Facebook / Follow us on Twitter