Students, graduates and others preparing to take the LSAT, or Law School Admission Test, are given 12 different gender identity options to choose from as they create an account with the Law School Admissions Council, which administers the famous exam.
The applicants are encouraged to "choose all that apply."
Choices include "agender, "androgyne," "demingender," "queer or genderfluid," "man," "transgender man," "non-transgender man," "questioning or unsure," "woman," "transgender woman," "non-transgender woman," and "additional gender category/identity [fill in the blank]."
"Prefer not to answer" is the final option on the form.
The main media representative listed for the Law School Admissions Council did not respond to emails and a voicemail from The College Fix seeking comment about the form, including when and why it was changed from male/female to the wide variety of choices offered today.
But a screenshot of the gender identity question went viral on Twitter in recent days, prompting renewed interest.
When applying to law school, potential candidates are required to create an account with LSAC before registering for the test. Thereafter, applicants can apply to schools with this account.
The gender options the admissions council offers include non-binary gender options ranging from "agender," or those who see themselves as having no gender identity, to "demigender," who are those who feel a partial connection to a particular gender identity.
Current law school applicant Cassandra Rodriguez, who took the LSAT twice, said she only recently noticed the changes when registering for her third retake and affirmed the recent change of the gender identity question.
"I think it's great that the world is finally accepting everyone as who they are," she told The College Fix.
The LSAC online portal allows users to answer questions about their sexual orientation as well, with the organization saying it aims to "improve services and programs for law school candidates." The answers are not recorded or included on LSAT score reports or law school applications.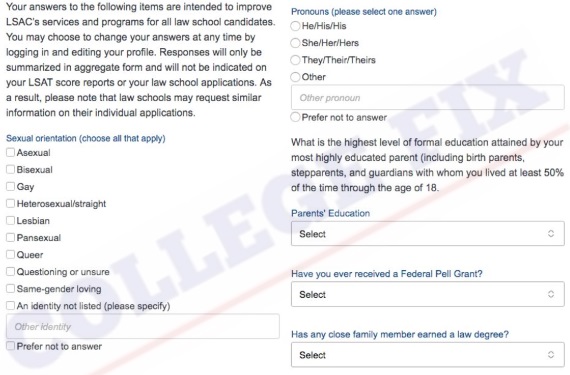 Inside the portal, it lists nine options for sexual orientation that include asexual, bisexual, gay, heterosexual/straight, lesbian, queer, questioning or unsure, pansexual and same-gender loving. It also lets users pick their preferred pronouns or they can choose not to answer.
MORE: Students given 6 'gender identity' choices on college applications
Like The College Fix on Facebook / Follow us on Twitter