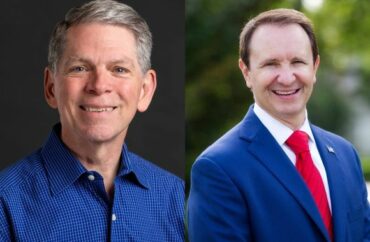 Journalism chair called a Republican female aide a 'flunkie' for speaking out against vaccine mandates
The communications chair of Louisiana State University announced he would resign after the state elected a Republican governor on Saturday.
Professor Robert Mann and Governor-elect Jeff Landry have previously butted heads after the journalism chair referred to a Landry aide and attorney as a "flunkie," a dismissive term.
"I have this morning informed my dean that I will step down from my position at LSU at the end of the school year," Mann (pictured, left) wrote on X on Sunday afternoon.
He wrote further:
My reasons are simple: The person who will be governor in January has already asked LSU to fire me. And I have no confidence the leadership of this university would protect the Manship School against a governor's efforts to punish me and other faculty members.

I've seen too much cowardice and appeasement from top LSU officials already. That being the case, it's clearly best to remove myself from the equation to avoid any harm to the school I love.

I'll add that I've suspected for the past two years it would come to this, so I've been making plans for some time. The minute that I knew Landry wanted me fired and was willing to call the president to demand it, I knew there would be dark days for LSU if he won.
The dispute between Landry (pictured, right) and Mann goes back to 2021. Landry, who is currently the attorney general, asked LSU's president to punish Mann over a series of social media posts.
"Louisiana AG Jeff Landry sending some flunkie to the LSU Faculty Senate meeting today to read a letter attacking covid vaccines is quite the move from a guy who considers himself 'pro-life," Mann wrote on Twitter, now X, in Dec. 2021.
"This type of disrespect and dishonesty has no place in our society — especially at our flagship university by a professor. I hope LSU takes appropriate action soon," Landry wrote in response, as reported by the Daily Advertiser.
"I believe that such a personal attack, calling a female LSU undergrad and law school graduate a 'flunkie,'… reflects negatively on LSU," Landry wrote, according to a letter to LSU President William Tate.
"It is clear that Chair Mann's intent was to mock, insult, or belittle this accomplished alumna. Such personal attack violates the 'Commitment to Community' found in the LSU Faculty Handbook," Landry wrote, according to the letter obtained by the Daily Advertiser.
President Tate declined to take action against Mann, a longtime Democratic aide prior to joining academia.
MORE: Plagued by campus crime, Temple president resigns
IMAGES: Louisiana State University; Louisiana Attorney General's office
Like The College Fix on Facebook / Follow us on Twitter