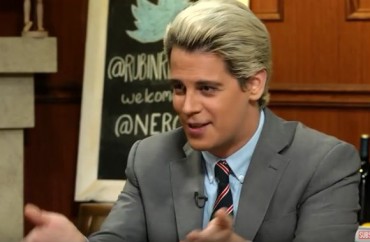 In the wake of the phony webpage incident that claim to sell tickets to the upcoming appearance of Milo Yiannopoulos at Louisiana State University, campus student groups and the LSU Office of Multicultural Affairs are now trying to come up with a way to prevent the conservative "performer's" (the LSU Daily Reveille term) event on the 21st.
The Daily Reveille reports that Ethan Guerra-Deslatte, vice president of administration for the LGBTQ student organization Spectrum, said "he and other students have been receiving counsel from the Office of Multicultural Affairs and have been in communication with the Office of Diversity on how best to handle and potentially prohibit Yiannopoulos' upcoming appearance."
"He's not just anti-LGBT. He's anti- anything that will get him attention," Guerra-Deslatte said. "This realistically can incite violence."
Yiannopoulis was invited by LSU Students for Trump.
Students for Trump Ambassador David Walters said he wanted to bring Yiannopoulos to campus to gain greater exposure for his organization and attract new members.

Walters said he and other members of Students for Trump are aware of past protests at Yiannopoulos' shows, and they plan to have a designated protest area outside of the Union Theatre on the night of his performance.

MORE: UC Irvine College Republicans sanctioned for Milo event

"We're doing this to enjoy ourselves, to listen to somebody speak and to learn," Walters said. "This is not going to be some controversial, crazy thing where we're just going to argue and this and that. Let the people that are going enjoy themselves." …

[I]n a statement to The Daily Reveille, LSU Media Relations Director Ernie Ballard said allowing Students for Trump to host its event in a campus facility is not an endorsement of the speaker or his message.
Indeed, Mr. Ballard (thus far) appears to keep the university in the sensible — and correct — position of neutrality on the matter:
"The group is hosting the event as a student organization and is going through the procedures to host their event, as any student organization can. The University's role is to provide a facility, as we would to any of our student groups who go through the event process. Simply providing a facility doesn't equal an endorsement by the University of any event held on campus. No university funds [are] being used to bring him here."
MORE: DePaul 'Black Leadership Coalition' uses Milo fracas to make new demands
MORE: Blocked entrance, shouting matches, apathetic cops and angry women at Milo's UCLA stop
Like The College Fix on Facebook / Follow us on Twitter
IMAGE: Rubin Report/YouTube