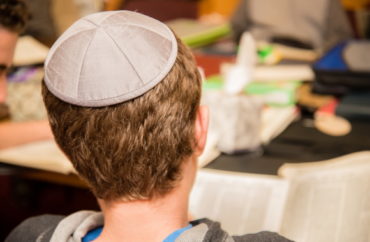 Also, 50 percent feel the need to hide their Jewish identity, survey finds
A majority of American Jewish college students feel unsafe on campus, and another 50 percent feel the need to hide their Jewish identity, according to the results of a newly released poll.
Specifically, 65 percent of students who openly identify as Jewish reported feeling unsafe due to anti-Semitism on campus, according to the poll, released Sept. 20 by the Louis D. Brandeis Center for Human Rights Under Law.
"The first poll to specifically examine rates of anti-Semitism among college students who claim a strong sense of Jewish identity and connection to Israel finds that, among this group, students are feeling unsafe and, as a result, are learning that to avoid anti-Semitism they must view their religion as something to hide, not celebrate," the center said in a news release.
The poll was conducted among 1,027 members of Alpha Epsilon Pi and Alpha Epsilon Phi, the leading predominantly Jewish fraternity and sorority in the nation.
Half of male respondents and 69 percent of female ones reported experiencing a verbal anti-Semitic attack, according to the release.
Over 80 percent of respondents were "supportive of Israel" and nearly 60 percent had been to the country.
What remains unclear from the poll is whether openly Jewish students feel more threatened by far-right white supremacy or far-left anti-Zionism.
"While we didn't ask that specific question in the survey, the findings certainly indicate that anti-Semitism on campus is coming from both the extreme left and extreme right," Mike Cohen told The College Fix in a texted statement.
Cohen is the lead researcher at Cohen Research Group, which partnered with the Brandeis Center to conduct the poll.
"[T]he most common verbal attacks," Cohen said, "included offensive statements including referring to Jews as greedy, cheap, or having other negative qualities and assigning all Jews the collective responsibility for actions by Israel."
"Many students experienced being called untrustworthy or having too much political power over U.S. policymakers as well as derogatory statements about Jews and Zionism in terms of white supremacy or responsibility for Nazi treatment of Palestinians," he added.
Other findings in the poll included seniors feeling 20 percent less safe than their freshman peers, and that 10 percent of respondents were aware of a physical attack on a Jewish student in the past 120 days. Six percent reported that they had been physically attacked, threatened with a weapon, or spit on.
Jewish student groups expressed concern about the results of the poll.
"We have seen an alarming rise in antisemitic activity in recent months, both on campus and in the social media communities in which students engage, in which Jewish students are being targeted for their real or perceived connection to Israel," Hillel International Vice President of External Affairs and Campus Preparedness Matt Berger told The College Fix in an email.
"We are focused on empowering students to address antisemitism when they see it and call it out, as well as educating the full campus community, including university administrators, about how to prevent antisemitism and create a campus environment where all Jewish students feel safe and welcome," he said.
The poll was conducted at the end of the spring 2021 semester, before the May 2021 Israel-Gaza hostilities that stemmed from tensions over the planned eviction of Palestinian families from the neighborhood of Sheikh Jarrah.
The skirmishes prompted student governments at multiple colleges, including at the University of Michigan's Central Student Government, to pass statements and resolutions in support of the Boycott, Divest and Sanction Movement against Israel, which some have called anti-Semitic.
MORE: Evil, crazy, or just plain stupid? Top 10 quotes from Middle East studies professors
IMAGE: Jyurinko / Shutterstock
Like The College Fix on Facebook / Follow us on Twitter