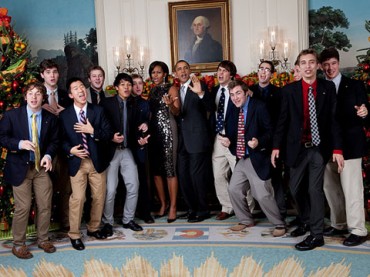 More than half – 51 percent – of America's millennials who say they will "definitely be voting" in November prefer a Republican-run Congress, with only 47 percent favoring Democrat control, according to a Harvard Institute of Politics poll.
This marks a significant departure from the institute's findings before the 2010 midterm elections, when America's 18-29 year olds who were definitely voting favored Democrats 55 percent to 43 percent.
Institute director Maggie Williams described the youth vote as "politically up for grabs" and a potential "swing vote" for control of Congress in a conference call to announce the results.
"The message to political candidates is clear: Ignore millennial voters at your peril," Williams said.
What's more, the poll found that only 43 percent of millennials approve of President Obama's job performance, while 53 percent disapprove. It is his second-lowest rating in the institute's polls since he took office. The figures are only slightly worse for Obama among those who will "definitely be voting": 42 percent approve, 56 percent disapprove.
The results showed a stark divide in presidential approval along racial and ethnic lines. Only three in 10 young whites approve of the president's performance, while nearly eight in 10 young blacks approve. Hispanic youth approval fell to 49 percent, down from 60 percent just six months ago.
Director of Polling John Della Volpe described youth voters as "a little bit less Democratic" than during Obama's first term, speaking on the conference call. Factoring in the voting likelihood of all millennials, more 18-29 year olds prefer a Democrat-controlled Congress than a Republican one (50 percent to 43 percent), Della Volpe said – but the age group has become less supportive of the party.
"A lot of it comes down to turnout," Della Volpe said. "It seems that young Republicans are more likely to participate next week."
The poll also surveyed voters about terrorism threats. More than six in 10 millennials say they are "a great deal" or "somewhat" worried about another terrorist attack, with young women (66 percent) more afraid than men (56 percent).
A plurality – 39 percent – supports the president's expansion of the U.S. air campaign against ISIS. Twenty percent oppose the expansion of air strikes, while 38 percent are unsure.
The institute survey of 2,029 18-29 year-old U.S. citizens was conducted Sept. 26-Oct. 9 with a confidence level of 95 percent and a margin of error of 2.6 percent.
College Fix reporter Michael Cipriano is a student at American University.
Like The College Fix on Facebook / Follow us on Twitter
IMAGE: USGovt/Flickr