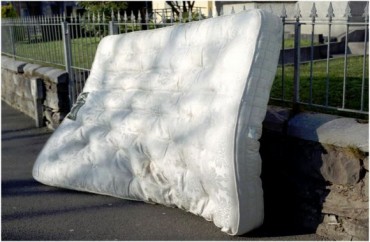 Former Columbia University student Paul Nungesser plans to seek justice from the 2nd U.S. Circuit Court of Appeals, which previously overruled a federal judge that blocked a male student from suing Columbia for reverse discrimination under Title IX.
A federal judge in Manhattan threw out Nungesser's second amended complaint against Columbia for creating a "hostile environment" against him as his accuser, "Mattress Girl" Emma Sulkowicz, continued to protest against Nungesser through her "Carry That Weight" for-credit art project.
Judge Gregory Woods rejected the first lawsuit as unable to show the German student faced discrimination because he's a male, and in his March 24 ruling, the judge tossed the amended suit "with prejudice" so that Nungesser can't bring it again, the New York Post reports:
To win, Nungesser would have had to prove that Columbia knew he was being harassed based on his gender, Judge Woods said in 46-page opinion. But Nungesser himself argued in his lawsuit that "Sulkowicz's conduct was motivated by her anger at his rejection of her as well as her anger at his having been found 'not responsible'" for the rape, Judge Woods said.
Indeed, Sulkowicz started her protest because Columbia did not find her allegations credible, even under the extremely low bar mandated by the Department of Education's Office for Civil Rights.
Emma Sulkowicz isn't done making art about rape https://t.co/Hdbji7g9NX pic.twitter.com/ovBeARHLVd

— NOW Magazine (@nowtoronto) March 17, 2017
MORE: Columbia bends the rules for 'Mattress Girl' again at graduation
Lawyer Andrew Miltenberg, whose firm is defending Nungesser, told Ashe Schow of Watchdog.org that Judge Woods "has been decidedly closed-minded" from the start of the case:
[W]e are exceptionally disappointed; Paul is a real victim, and the 100 page complaint is very detailed and clearly sets forth substantial claims including violations of Title IX, basic principles of equity and beyond.

It's quite telling that well before this case started, the public commentary has been virtually unanimous in its outrage at Columbia University's treatment of Paul.
Nungesser's parents also said they are heading for the 2nd Circuit, because Woods' ruling would "allow university sponsored defamation and public harassment of innocent students" who are exonerated by campus disciplinary proceedings.
Schow notes that Nungesser's name was dragged through the mud so thoroughly that he left the country after graduating, "believing he couldn't get hired in the U.S. after the negative media attention."
MORE: Exonerated student sues Columbia again over 'Mattress Girl' protests
Sulkowicz and her circle of Mean Girls were determined to ruin him, before and after his win in the campus court:
Sulkowicz made the accusation after talking to several of her friends, who were part of the same friend group as Nungesser. One of these friends, an ex-girlfriend of Nungesser, claimed he was a bad boyfriend. Another claimed he kissed her without her consent at a party. The three all decided to make accusations against Nungesser. …

Nungesser sued Columbia for allowing her to publicly harass him through her art project. During the senior art exhibition, Sulkowicz not only displayed her mattress, but also drawings she had made of her alleged rape, including drawings of Nungesser's genitals.
Sulkowicz's behavior did not remotely suggest she was traumatized by Nungesser's alleged behavior:
Two days after this alleged violent rape, Sulkowicz responded to a party invite from Nungesser. She wrote, "I feel like we need to have some real time where we can talk about life and thingz" and "we still haven't really had a paul-emma sesh since summmerrrr."

A week later she invited Nungesser to hang out with her, and a month after that she wrote, "I love you Paul. Where are you?!?!?!?!" after Nungesser wished her a happy birthday.
The 2nd Circuit's overruling of another Manhattan judge, Jesse Furman, in a case brought by an accused male athlete should give hope to Nungesser and his legal team.
MORE: Appeals court reinstates reverse-discrimination case against Columbia
In its ruling last summer, the three-judge panel swatted down Furman for defending behavior by Columbia that he acknowledged was discriminatory:
A defendant [Columbia] is not excused from liability for discrimination because the discriminatory motivation does not result from a discriminatory heart, but rather from a desire to avoid practical disadvantages that might result from unbiased action.
2nd U.S. Circuit Court of Appeals reinstates reverse-discrimination suit against Columbia University by The College Fix on Scribd
Those "practical disadvantages" are pretty much why Columbia let Sulkowicz run loose against Nungesser after rejecting her allegations.
The university would have faced much harsher public denunciations for appearing to silence a rape victim – one whose story was so dubious it couldn't meet a "preponderance of evidence" standard – by protecting an exonerated student from debilitating harassment over months.
Read the Post and Watchdog.org reports.
MORE: 'Queer and black' male accuses Nungesser 3 years after alleged rape
Like The College Fix on Facebook / Follow us on Twitter
IMAGE: Lucas Shaw/Flickr