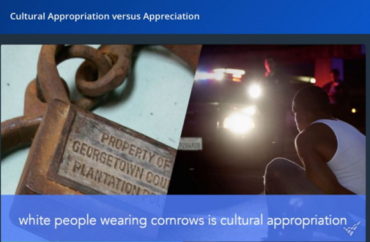 White people wearing cornrows is cultural appropriation and an example of the exploitation of black people in the United States, according to a training Point Park University students are required to take.
The cornrow example took up nearly 20 percent of a roughly 10-minute online training titled "Cultural Appropriation versus Appreciation," one of the mandatory sensitivity training students must take at the private, Pittsburgh-based campus.
Other mandatory trainings required by Point Park University include "Diversity Awareness for Students" and "Sexual Violence Prevention for Undergraduate Students."
"Let's examine a common instance of cultural appropriation: white people who wear cornrows in their hair. At first glance, this may seem like an inconsequential issue, who cares how people wear their hair? You might even be thinking: when white people wear their hair in cornrows, they're expressing appreciation for this element of black culture," the narrator of the cultural appropriation online training stated.
"But if we take into account the history of enslavement and the social, political and economic exploitation that black people in the U.S. still endure today, white people wearing cornrows is cultural appropriation and not appreciation."
The training cited depictions of women from the Sahara wearing cornrows that date back to 3,000 B.C. and people in West Africa who wear cornrows to signify religious beliefs or kinship. It then noted that in the 60s and 70s African Americans adopted the hairstyle "to express their ethnic pride."
"Today wearing cornrows in the U.S. is often seen as an acceptable style choice for white people, but countless black people have been reported being harassed, discriminated against, and even fired for wearing the hairstyle," the narrator stated.
The training then cites an unnamed 2019 study in which participants were shown images of both black and white women with the same exact hairstyle, but the narrator does not indicate if the women in the pictures were wearing cornrows.
"They rated the hairstyle on a white woman 25 percent higher in terms of job readiness than the same hairstyle on a black woman," the narrator stated. "Far from showing cultural appreciation, when white people wear cornrows, they are disregarding and perpetuating a legacy of exploitation.
"And black people, black women who are fined or deemed not job ready, for example, see both economic and cultural harm."
After the video concludes, students are tasked with taking a five-question quiz. In order to pass the training, a grade of at least 80 percent must be earned.
The training was facilitated by Vector Solutions, which provides higher education-based trainings to colleges and universities across the nation.
It began by discussing when cultural appropriation is most pressing: Halloween.
"It is often discussed around Halloween, if people dress up as stereotyped versions of Mexican people, Native Americans, or other marginalized groups," the narrator stated.
According to the lesson, the negative effects one can experience if their culture is appropriated include:
Sacred and deeply meaningful aspects of your culture may be disrespected

Aspects of your culture may be misrepresented, degraded, or stereotyped

You may be excluded from the financial benefits an appropriating group receives

Your right to intellectual property or trademark and copyright may be infringed

You may feel that the integrity of your culture is being undermined

You may experience a lack of control over how your culture is defined and presented to others
The training also argued that "groups that have historically been oppressed, exploited, and marginalized have less economic and cultural power in society than dominant groups."
"Members of the group whose culture is appropriated re-live painful histories of degradation from the group in power. Those who have historically held power continue to silence marginalized voices and viewpoints," the narrator stated.
The training teaches students to think about whether the culture has been historically oppressed before engaging in things such as Cinco de Mayo or wearing traditional clothing.
"I don't understand how someone can tell you that you can't wear a certain hairstyle. You don't have to make everything about race and telling someone they can't wear their hair a certain way is discrimination regardless of race or hairstyle," PPU sophomore Tyler Hillard said in an interview with The College Fix.
The College Fix reached out to the media relations department of Point Park University for comment, but did not receive a response.
MORE: College accused of 'cultural appropriation' after 'mostly white' choir sings black spirituals
IMAGE: screenshots
Like The College Fix on Facebook / Follow us on Twitter