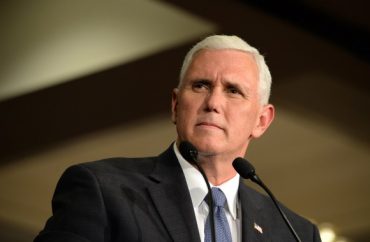 UPDATED
Many students at the University of Notre Dame have reacted with contempt at the decision to host Vice President Mike Pence as the institution's commencement speaker this May, calling him anti-women's rights, an enemy to undocumented students, and an anti-Catholic choice.
While there have been no calls to disinvite Pence outright, much of the commentary among students has condemned the selection, and a video that has traveled widely within the Notre Dame community showcases a student accusing the vice president of a basic disregard for the fundamental rights of some Americans.
The venerable Catholic institution has a tradition of inviting newly minted presidents to be grad speakers, and Notre Dame has had four out of the past five presidents — excluding Bill Clinton — speak at commencement.
This year, Pence was invited to speak instead of President Donald Trump, a move that likely aimed to skirt controversy as many had spoken against that idea. In December, the College Democrats of Notre Dame created a petition to protest the possibility of having Trump speak, and more than 3,700 signatures were garnered from students, faculty, staff and alumni.
With that, earlier this month university President John Jenkins stated in a press release announcing the decision to host Pence that it "is fitting that in the 175th year of our founding on Indiana soil that Notre Dame recognize a native son who served our state and now the nation with quiet earnestness, moral conviction and a dedication to the common good characteristic of true statesmen."
Denunciations of that March 2 announcement came fast and furious.
"Vice President Pence has demonstrated this 'quiet earnestness' and 'moral conviction' on numerous other occasions: when he refused to allow Syrian refugees, fleeing from violence and terrorism, to find refuge in our state; when he limited a woman's right to control her own body by slashing access to women's healthcare; or when he limited needle exchange programs that could have prevented the worst HIV outbreak Indiana has ever seen," the College Democrats of Notre Dame wrote on their Facebook page.
"The new Administration has shown a basic disregard for the fundamental rights of so many communities. We are saddened that Fr. Jenkins would invite Vice President Pence to serve as an ambassador of that Administration, as he receives an honorary degree on a stage shared by members of the very communities he marginalizes," the statement added.
Senior Film, Television and Theatre major Elizabeth Hynes also created a satirical video in protest of Fr. Jenkins' announcement entitled "Penance with Pence."
"Just as many people were opposed to the invitation of President Obama in 2008, I'm opposed to the university inviting Pence today," Hynes said in an email to The College Fix. "The invitation of a man who, during his tenure as governor, made decisions that harmed the quality of life for many marginalized groups (e.g. refugees, drug users from lower socioeconomic levels, members of the LGBT community, and women) runs counter to the Catholic values of inclusion that both Pence and our university claim to perpetuate. Additionally, Pence's complicity in an administration that is hostile towards–among many other groups–DACA students and their mixed-status families makes him a threat to many of our peers' ways of life."
Hynes adds that she will be attending commencement, as "it represents things that are of more personal importance than the speaker."
"But I do plan to protest," she states, "which won't invalidate any of the gratitude I feel towards Notre Dame and everyone that commencement weekend celebrates. My parents and this university have taught me to stand up for what I believe is right, so remaining silent would be a betrayal to those lessons."
In the wake of the decision, the executive board of Diversity Council, a student group that promotes "awareness, understanding and acceptance of all differences that make up the Notre Dame community," also released a statement expressing the group's dissatisfaction, The Observer campus newspaper reports.
"Our working definition of diversity spans, but is not limited to race, gender, ethnicity/culture, sexual orientation, socioeconomic status and spirituality," it said. "In the spirit of our mission, we are disappointed and angered by the University's announcement of Vice President Mike Pence as the 172nd Commencement speaker."
But not everyone is against the decision.
The Notre Dame division of Young Americans for Freedom, which wanted Trump to speak, is willing to accept Pence. However, they are more disappointed with the decision not to follow tradition and invite the president — whoever it may be, according to an article in the Irish Rover.
The Notre Dame College Republicans also released a statement in support, writing: "Vice President Pence has a proven track record of Conservative principles and has staunchly defended Christian values during his time in public office. We were honored to host him on campus during his time as Governor of Indiana, and now we are excited for him to return as the Vice President of the United States to deliver the keynote speech at this year's commencement ceremony."
Meanwhile, faculty at the university have stayed largely silent on the issue of Pence thus far.
Editor's note: The article has been updated to clarify that Elizabeth Hynes gave her quotes in an email to The College Fix.
Like The College Fix on Facebook / Follow us on Twitter
IMAGE: Shutterstock