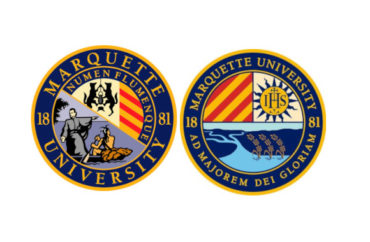 Marquette University today unveiled a new school seal after Native American activist groups argued the previous seal was disrespectful to Indigenous people.
The seal, which was crafted shortly after the school was founded in 1881, featured a depiction of Father Jacques Marquette in a canoe with a Native American guide. The new seal, however, removes the image of both Marquette, the school's namesake, and his Native American companion.
The original image was allegedly based on an 1869 painting by Wilhelm Lamprecht titled "Pere Marquette and the Indians," which depicted Marquette consulting with Native Americans as he worked his way down the Mississippi River. Marquette is standing in his canoe and pointing at the river as he talks with another Native American man. His Native American guide is sitting in the canoe with his back to the viewer.
Activist groups, however, took issue with how the painting was cropped for the seal, as it appears Marquette is telling the guide where to go.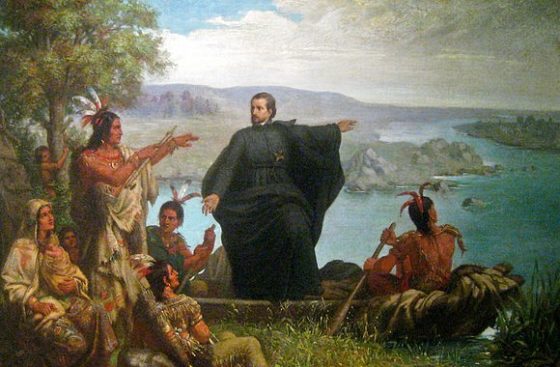 "I think our Indigenous students really rose to raise awareness about how the imagery impacted them and how they thought there was a fuller story to share," said Jacqueline Schram, the university's director of public affairs and special assistant for Native American affairs, in an interview with the Milwaukee Journal Sentinel. Schram is a member of the Sagkeeng First Nation band from Manitoba, Canada.
The effort to draft a new seal began in early 2020. The updated seal features two panels: the bottom panel is an image of a river splitting into three separate rivers – the Milwaukee, the Menomonee and the Kinnickinnic. The panel features three stalks of rice, a crop popular with area Native Americans. The top panel depicts a number of symbols that pay tribute to the school's Jesuit tradition.
The panel with the rice stalks, which are meant to represent three local Native American tribes, was submitted by Native American artist Kristelle Ulrich of the Oneida Nation.
Thus, the new seal no longer features a depiction of the founder of the university or a Native American person.
Marquette famously changed the school's mascot away from the "Warrior" in 1993 after Native American groups complained it disrespected Indigenous people. The school's sports teams are now known as the "Golden Eagles." (Other professional teams, such as the Golden State Warriors, continue to use the nickname without controversy.)
Read more here.
MORE: Marquette considers redoing seal accused of favoring white explorer over Native American guide
IMAGE: Marquette University
Like The College Fix on Facebook / Follow us on Twitter