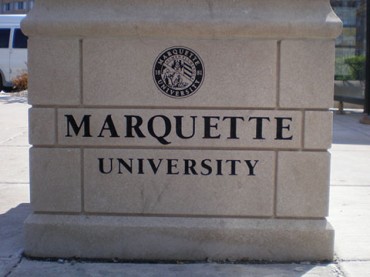 Not trying to "wave the race flag," just make sure all students properly represented
A Jesuit college that pays for same-sex partner benefits, has hosted a kinky-sex student workshop and whose professors push the theory of "benevolent sexism" has drawn the progressive line at creating a student diversity official.
Marquette University's student government last week failed to pass an amendment to create a coordinator for "diversity, inclusion and social justice," Marquette Wire reported.
Per a request from the Higher Learning Commission at its last accreditation visit to the school, Marquette kicked off a new plan to improve campus diversity last month that will include an online "climate study" in the spring, the Wire previously reported.
"When you are a university in an urban setting like this, one would think that our community would be a bit more diverse than it is," interim Provost Margaret Callahan said in regard to the school's downtown Milwaukee location, according to the Wire.
Marquette's student body diversity report said minorities comprised 17 percent of the school's population in 2013, with another 11.2 percent identified as "two or more" races, "unknown" or "nonresident alien." 
The diversity coordinator measure only failed because it came two votes short of the two-thirds majority required to amend the constitution, student government President Kyle Whelton told The College Fix in a phone interview. Whelton says the bill was necessary to establish a codified position on diversity, as 10 of the nation's 23 Jesuit universities already have.
For years, student government presidents have set up ad hoc committees on diversity and inclusion, which only last the one-year term of the president, Whelton said. He and Vice President Natalie Pinkney wanted a permanent cabinet-level position to coordinate all the diversity groups on campus, creating a "meeting of the minds" and advocating for these groups, he said.
Whelton says the creation of an unpaid diversity coordinator was not designed to "wave the race flag" but make sure all Marquette students were properly represented.
Rather than put the amendment back up for a vote or create another ad hoc committee on diversity, Whelton said he'll bring in minority student organizations and try to create dialogue on campus about diversity. Some senators who supported the measure may try to get it passed again this year, however, he added.
Alexander Lech, one of the senators opposing the amendment, said he voted "no" because the student government was meant to represent all students already.
The student government's "record will show that we have helped address issues that specifically relate to what the proposed [diversity] committee would have tried to accomplish," Lech told The College Fix in an email. He cited an example where the student government set up prayer space following a request from the Jewish Student Union.
"I don't believe that a bigger bureaucracy would necessarily translate into efficiency, I actually think it hinders it," Lech said regarding a new diversity position. Rather, the student government should "advocate for the needs of all Marquette undergraduate students for whom they represent."
Another opposing senator, John O'Rourke, said students who want to effect a change at Marquette on behalf of a minority community should run for student government themselves, according to the Wire.
"If you feel your race or sexual preference is not represented on our student government, then perhaps you need to explore different avenues of running or getting involved," O'Rourke said.
College Fix contributor Kyle Brooks is a student at the University of Wisconsin-Whitewater.
Like The College Fix on Facebook / Follow us on Twitter
IMAGE: Dave Reid/Flickr