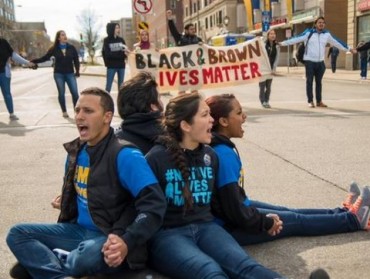 Students allege they're victims of 'discriminatory violence' from school's historic seal and its lack of diversity classes
A lack of mandated diversity courses at Marquette University is an example of "discriminatory violence" so oppressive that four "students of color" blocked a busy campus intersection earlier this week in protest, prompting their arrest.
And that's not the only example of the oppression alleged by the so-called "Ad Hoc Coalition of and for Students of Color" at Marquette, a 134-year-old Catholic Jesuit college in Milwaukee that costs undergrads $37,000 annually to attend.
The group of students is also upset over the university's longtime seal, which includes an image of its namesake Rev. Jacques Marquette, the French-Jesuit missionary whose 17th-century travels helped map Milwaukee and the Midwest.
The seal includes a standing Marquette pointing in a canoe with an American Indian sitting and holding an oar, an image that appears to have been inspired by an old painting of the explorer. But the student coalition has decried the seal as a "biased and impartial narrative" and have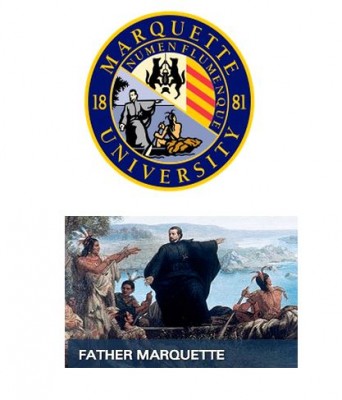 demanded the image be cropped or altered.
Because, as far as the "Ad Hoc Coalition of and for Students of Color" is concerned, "discriminatory violence" is defined as "physical harassment, language, exclusion or imagery that targets an individual or group based upon their race, gender, sex, class, national or cultural identities," the campus newspaper The Marquette Wire reports.
With that, the seal must fall under what the group contends is the "discriminatory violence-imagery" category.
They also want the university to set up a "bias incident report system" and a "training on how to end discriminatory violence in the classroom and in the campus community" for all employees, scholars and students, according to their demand list.
Not stopping there, their demands also include "the expansion of the core curriculum to include 2-3 more diversity and inclusion required courses that unambiguously address the realities of white privilege and oppression at Marquette, in Milwaukee, and in our nation."
.@OccupyWallStNYC Students protesting poor treatment of Marquette students of color shut down campus intersection pic.twitter.com/4GR4iKKGsc

— Joseph Brusky (@JosephBrusky) April 27, 2015
They're also calling on administrators to increase initiatives to recruit and retain students of diverse backgrounds and want officials to "remove the requirement to report prior felony convictions in both admission and employment applications."
As for what has prompted such outrage and indignation among these students, specific allegations have yet to surface. The only claims made by this coalition, aside from the seal and lack of diversity classes, have been vague, nebulous assertions of feeling left out and targets of bias.
Ironically, the only very public, well-documented instances of discrimination at the private university recently have been against a conservative student and professor.
In February, conservative Marquette Professor John McAdams' tenure was revoked after he criticized a graduate teaching instructor for silencing an undergraduate who held traditional views on marriage. The graduate teaching instructor had told the student he was not allowed to openly disagree with gay marriage in class.
But apparently it's the "Ad Hoc Coalition of and for Students of Color" that are the real victims here. According to the campus newspaper, the coalition's members allege oppression "from academic to social to policy issues."
"The goal for the list of demands is that all students that go to Marquette University can feel comfortable and included … and have the university maintain that open mind and that open to dialogue, open to different ideas-type of mentality," student Joseph Martinez, co-founder of the coalition and a senior in the College of Arts & Sciences, told The Marquette Wire earlier this month.
According to the Facebook page describing the protest at which four students were arrested this week, the demonstration was meant to "address issues of discrimination, police brutality, divestment, and many other initiatives taking place in and around Milwaukee."
"We hope that our presence will reveal the urgency of our demands and show Marquette that these issues effect Students of Color and the Milwaukee community."
Marquette officials did not respond to The College Fix's request for comment. Its administrators have told several other news outlets that they take the matter of diversity seriously and are working to "create a diverse university community."
The list of demands was first presented to administrators last fall, and in February the university convened a Task Force on Equity and Inclusion to address concerns.
"I met with a lot of students who really felt when they were on campus that they didn't really feel a part of the fabric on campus," university President Michael Lovell said at the time, reports the The Marquette Wire.
Other campus officials have tripped over themselves to verbally appease the disgruntled students.
"We recognized in 2014 some things about ourselves as a society," William Welburn, associate provost for diversity and inclusion and chair of the diversity advisory committee, told the Wire in February. "The lessons we've learned about the consequences of inequality and injustice have been painful. As a university, we need to reassert our relevance in seeking solutions to societal ills."
But protestors are not happy with Marquette's attempts to improve the situation.
"There's been a lot of lip service, a lot of dialogue that is taking place and not enough concrete action," student Cesar Hernandez told Fox 6 news.
College Fix reporter David Hookstead is a student at the University of Wisconsin-Madison.
Like The College Fix on Facebook / Follow us on Twitter
IMAGE: Main, Twitter screenshot
Like The College Fix on Facebook / Follow us on Twitter