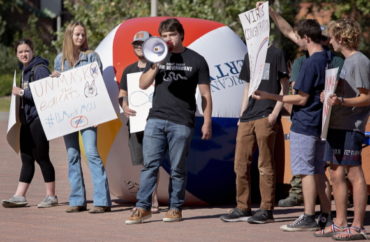 Montana State University has become a flashpoint in the war against campus COVID restrictions and mask mandates as a student leader with Young Americans for Liberty fights back against what he contends are onerous and ever-changing rules and regulations.
The student at the center of the fray is Dylan Dean, leader of MSU's Young Americans for Liberty chapter.
The conflict commenced in August after MSU President Waded Cruzado began releasing a series of official communications that indicated a previously promised mask-free policy would be walked back.
In a phone interview with The College Fix, Dean called this the beginning of the "bait and switch."
Cruzado's August 3 communication announced a campus-wide indoor mask recommendation.
Two weeks later, on August 17, Cruzado followed up with a particularly confusing appeal that simultaneously stated members of the MSU community, whom she affectionately refers to as Bobcats, would need to wear masks when indoors on campus through October 1, while also assuring her Bobcats that this was neither a requirement nor a mandate, even though all Bobcats were expected to comply because "That's what Bobcats do." Bobcats wear masks. It's "The Bobcat Way."
Yet the following week, on August 26, two days into the semester, Cruzado apparently realized far too many of her Bobcats were straying from "The Bobcat Way."
"In this short time, it has become evident that there is widespread disregard for the need to wear face masks in our classrooms," Cruzado scolded. Hence, previous recommendations and appeals were replaced with a more explicit requirement for instructional spaces, still through October 1.
Then, on September 17, Cruzado expanded this requirement to all indoor campus spaces indefinitely.
Frustrated with such protean mask policies, Dean took action.
"Students were rightfully pretty upset about that," he told The College Fix. "We launched the petition about a week after that happened."
By Dean's account, there was considerable support for the petition. "We collected around a little over 1,100 signatures and that is, as far as I can tell, the largest petition in MSU history."
After collecting the signatures, Dean went on, "I emailed Cruzado's office…to set up a meeting to deliver the petition signatures to her because the petition was addressed directly to her."
When it became apparent that Cruzado was unwilling to agree to this meeting, Dean and his organization held a protest on September 24. The protest, according to Dean, was attended by approximately 100 people.
"We planned on delivering [the signatures] at that protest…just bringing some people up to [Cruzado's] office [in Montana Hall]. Leave them on her desk. That was it," he explained.
However, that day Montana Hall, which also houses the Office of the Registrar and Student Accounts, was closed off to everyone.
"They blocked us from the doors to Montana Hall with armed police who lied about smelling alcohol on us," Dean said, adding he and his peers were unnerved by the false accusation and refrained from pushing things further. To avoid a clash with law enforcement, they ended up giving the signatures to the dean of students to deliver to Cruzado's assistant.
Reactions to Dean's efforts from fellow Bobcats have been mixed.
The numbers provided by Dean for the petition and protest suggest support from the MSU community.
Responses to mass email campaigns sent by Dean to MSU faculty and staff, however, also indicate strong opposition.
A recent news release from Young Americans for Liberty's national office provided screenshots of some of these vulgar and angry messages.
One MSU staff member wrote, "Your freedom stops when it affects my health. This is a horrible self centered idea. You are an ignorant asshole." Responses from other staff members were more to the point. One read, "Frigg off ya hoser." Another simply stated, "You stupid fuck."
In a comparatively more professional email, Seth Pincus, a medical doctor and professor from the Department of Chemistry and Biochemistry, wrote to Dean, "Honestly, I think you are a selfish idiot who cannot even consider the potential suffering you can cause others, particularly the immunocompromised and children too young to be immunized. This is a serious disease. We have the tools to stop it. If you behaved as a citizen concerned about others, loved thy neighbor, and believed in the golden rule, we would not need mandates."
Although Pincus would not agree to an interview with The College Fix, he did confirm he sent this email and stated he regretted the initial rudeness of the email, but stood by the rest.
Ed Dratz, also a professor from MSU's Department of Chemistry and Biochemistry and faculty advisor to MSU's Young American's for Liberty chapter, told The College Fix in a phone interview, "I'm just in strong support of their general group and their overall efforts. Universities are such left-wing places that seeing an alternative view coming out is excellent because it tends to stimulate discussion."
With regard to his personal thoughts about MSU's mask mandate, Dratz said he thinks it's "acceptable to me to require masks in the classroom when people are very close together, but…it kind of tends to be overdone." With a hint of unease, Dratz went on to remark, "I don't think the mask mandate itself is as harmful as other things that might be in the horizon."
Dean is well aware of what might be on the horizon — what will likely be his next battle.
"The faculty senate voted on a vaccine mandate. They voted unanimously in favor of it in a resolution," he told The College Fix. "So, it's not binding, but they did that without putting it on the agenda, which is a very sneaky move because it meant students couldn't comment on it before the vote."
While he is still president of MSU's YAL chapter, Dean took the fall semester off because he said he was dissatisfied with low quality online classes in the spring and wanted to see where the school went with mask and vaccine mandates moving forward. He told The College Fix he intends to register for classes again in the spring barring a vaccine mandate.
Dratz noted he is uncomfortable by this march toward a vaccine mandate for MSU.
"There's two or three reasons why I don't think that's a good idea. I mean, number one, there's some negative effects of vaccination," he said. "Number two, with the new strains coming out, the vaccinations aren't as effective. And three, if there's good data now…that indicates that people who've previously had COVID, who've tested positive for COVID…have better protection against infection than people who've been fully vaccinated…if there were a requirement for vaccination, they should be able to be excluded from that requirement."
Dratz lamented though that there "doesn't seem to be much awareness of this."
Meanwhile, YAL "is currently fighting COVID-19 vaccine mandates on 23 college campuses, most notably at Rutgers University, Virginia Tech University, and the University of Colorado Boulder," according to the organization's news release.
"From protests to petitions, YAL is coordinating with student leaders on campus to rally support against vaccine mandates and promote individual choice during the public health crisis. The organization is not anti-vaccine, but rather anti-vaccine mandate at taxpayer-funded academic institutions."
MORE: Masks benefit men older than 89, but few others, University of Geneva economists find
IMAGE: Courtesy photo
Like The College Fix on Facebook / Follow us on Twitter