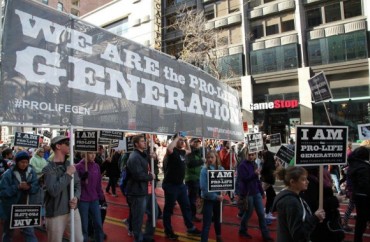 SAN FRANCISCO – Tens of thousands of people, many of whom millennials, converged Saturday in the streets of San Francisco to protest abortion, but they were greeted by a rowdy counter-protest as they marched for the unborn.
As the massive throng walked with a banner declaring "we are the pro-life generation," they were met by dozens of protesters who challenged their message with rude hand gestures and signs stating "stop patriarchy," "abortion is good" and "forced motherhood is female enslavement."
San Francisco police officers maintained peace, but a couple of protesters were handcuffed – two people 
who stood in the middle of the street, bare chested, with "Abortion is sacred" written on their chests and stomach. While handcuffed they yelled, "Fraud! Fake! Liars!"
Students for Life Rocky Mountain Regional Coordinator Lauren Castillo said the stark difference in the tone of the marchers and counter-protestors speaks volumes.
"We are the feminists that represent the original values of feminists, and we empower each other, but we don't have to get nude to do that," she told The College Fix. "We can respect our bodies and be powerful women without taking our clothes off."
Castillo added the marchers "welcome and invite protesters into an environment that is a place of forgiveness and mercy to possibly post-abortive people."
Saturday's event marked the twelfth annual West Coast Walk for Life, which observes the Jan. 22, 1973, Supreme Court decision Roe v. Wade. The decision legalized abortion in the U.S., and since then more than 54 million pre-born babies have been killed.
Marchers prayed and chanted "Hey Hey, Ho Ho, Roe V. Wade has got to go" as they continued their route through the city.
A majority of the crowd appeared to be young people, as students from nearly 100 high schools and colleges from across the western United States were represented in the march, according to organizers.
"We need to show our nation that this is a pro-life generation," president of Students for Life of America, Kristan Hawkins, told The College Fix. "Not only do polls show us that this is a pro-life generation, but coming to the walk for life shows that we have intensity on our side. We care more. And guess what?
People that care more win."
Maria Fernanda Gomez, 22, a history and political science major at Gonzaga University in Washington, was among the crowd. She said she would take back her experience in San Francisco to share with pro-life students in her region.
Also among college students was Michelle Machado, a grad student at California State University Stanislaus.
"Everybody should have a chance at living, no matter how small they are," Machado said as she marched.
Like The College Fix on Facebook / Follow us on Twitter
IMAGES: Sade Patterson, for The College Fix