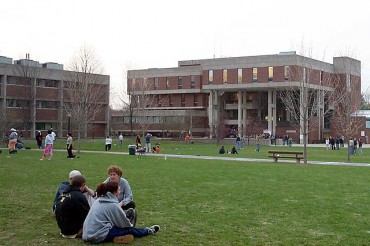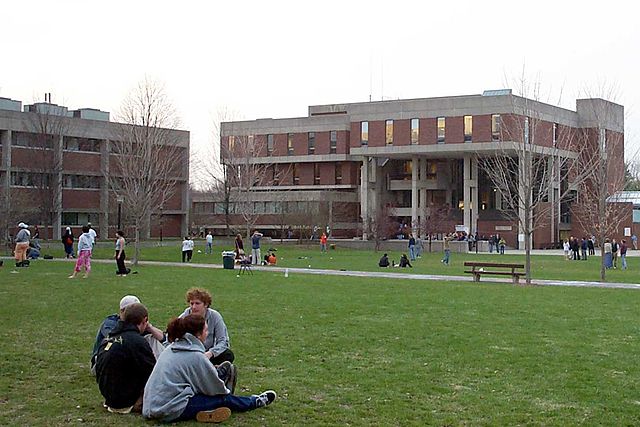 Do institutions of higher learning have a right to spit in the face of the law? Hampshire College in Massachusetts apparently thinks so. Few would argue against the premise that academia has often been a force for a force for advancing liberal ideas. Whether it's massive anti-war protests or controversial faculty associations with extremist ideologies, academia always seems to be pushing the envelope – and that is one remarkable benefit of the university environment, that we can gather and discuss ideas outside common boundaries.
But is there a point where the envelope is pushed too far?
Hampshire College is a private liberal arts school with a yearly tuition price of nearly $44,000, and has a reputation for their experimental methods, such as using the "narrative method" instead of tests and grades. Hampshire has been both praised and condemned for its dedication to "political correctness."
But Hampshire has taken it to a whole new level with the recent establishment of a scholarship fund exclusively for illegal immigrants – or as they prefer to say,  "undocumented students."
Alumni and other supporters have donated nearly $300,000 thus far to the fund for illegal immigrants. The school reports that the fund will help at least one student per year.
Hampshire sociology professor Margaret Cerullo, who incidentally teaches a class called Occupy Wall Street: History, Theory, Practice, helped establish the scholarship.
Cerullo noted in a statement that the legal obstacles for illegal immigrants are a "social injustice," and that, "Many of us who went to college in the post-World War II boom went on full scholarships. All financial aid was need-based. Increasingly that's not true anymore…for a lot of us, access to higher education is a deep principle."
Of course, that "deep principle" seems to be applied just a wee bit selectively. For instance, there doesn't seem to be a great ruckus about scholarship funds for actual American citizens who can't afford to attend elite private schools (like Hampshire) because tuition costs have been driven up to insane levels by big government loans that will saddle the students with debt for the rest of their lives should they choose to accept them.
Meanwhile – break U.S. immigration laws and be rewarded with free tuition.
Hampshire is not alone in this type of financial assistance; both UC Berkeley and UCLA provide scholarships strictly for illegal immigrants, and that's on top of California state financial aid that is given to all California "residents"—legal or otherwise.
While anyone with a heart can sympathize with children who are put in in the difficult situation of having been brought into this country illegally, anyone with a brain has to recognize that providing yet another incentive to illegally cross the border encourages more such illegal activity.
Hampshire Colllege apparently doesn't care. One speculates this is because the law doesn't "fit-in" with its political agenda. But a country in which the rule of law is so blatantly disrespected is a country asking for trouble on every front.
If, on the other hand, Hampshire College truly holds access to higher education as a "deep principle," the school might consider raising more money for its endowment so it can drop tuition rates for everyone—a move that would benefit students who actually have a legitimate right to attend.
Fix Contributor Emily Schrader graduated from the University of Southern California in December. She currently attends graduate school at IDC Herzilya in Israel.
Like The College Fix on Facebook / Follow us on Twitter