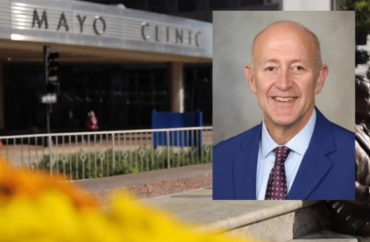 Doctor's comments 'problematic [for] the LGBTQI+ community,' Mayo Clinic said
A Mayo Clinic College of Medicine professor was recently suspended — and remains under the threat of termination — after he told a news outlet his stance on trans-athletes in women's sports and plasma treatments for COVID-19.
Administrators suspended Professor Michael Joyner without pay for a week, citing his "use of idiomatic language" and comments he made in a June 2022 New York Times article as justification for the disciplinary actions, according to a March 5 disciplinary letter that recently came to light.
The memo also told him to refrain from speaking to the media unless given permission.
The college expressed that Dr. Joyner's opinions "proved problematic in the media and the LGBTQI+ community at Mayo Clinic," according to a letter Joyner received from the college, which was recently published by the Foundation for Individual Rights and Expression.
In June 2022, Joyner told the Times that, when it comes to telling the difference between biological males and females, "you see the divergence immediately as the testosterone surges into the boys," he said. "There are dramatic differences in performances."
The "idiomatic language" the college could be referring to comes later in the New York Times article when Joyner stated "there are social aspects to sport, but physiology and biology underpin it… testosterone is the 800-pound gorilla."
Inside Higher Ed reported this interview prompted headlines featuring Joyner's statements such as "Doctors confirm trans swimmer Lia Thomas DOES have an unfair advantage even after taking testosterone suppressants" and "Doctors Verify the 'Scientific Evidence' Proves Trans Swimmer Lia Thomas' Unfair Advantage Over Females."
More recently, in January, Joyner spoke to CNN about the benefits of convalescent plasma as a treatment for immune-compromised individuals who contract COVID-19 and expressed his frustration with the government and other medical professionals who discount plasma as an effective course of treatment.
The Mayo Clinic College of Medicine disciplinary letter to Joyner demanded that he "vet each individual media request through Public Affairs including follow-up requests; allow them to do their job as they determine what topics are appropriate and are responsible for protecting Mayo Clinic's brand and reputation… cease engagement in offline conversations with reporters," and "discuss approved topics only and stick to prescribed messaging."
"Failure to fully comply with the expectations outlined above or any additional validated complaints from any staff, including, but not limited to, the issues noted above, or any form of retaliation will result in termination of employment," the disciplinary letter stated.
The college did not respond to requests from The College Fix seeking comment.
"Mayo Clinic's punishment of Joyner for sharing his expertise is an egregious violation of the college free speech promises," Zachary Greenberg, a FIRE senior program officer, told The College Fix in an email, adding the civil liberties organization is urging the Mayo Clinic "to follow its free speech policy by rescinding all punishment of Joyner."
FIRE has taken up Joyner's case and has sent two letters on his behalf.
"Joyner's media commentary falls squarely within MCCMS faculty's free speech right to speak as private citizens on matters of public concern," FIRE stated in its initial letter to the college.
The American Freedom Alliance also issued a statement to college leaders, arguing their actions are a form of prior restraint on Joyner's freedom of speech and they are a dangerous attack on his academic freedom.
"Dr. Joyner is receiving due process at Mayo, and he is currently appealing his most recent disciplinary action," MCCM's legal counsel wrote in response to FIRE's letters. "We intend to allow that process to play out and accept the decision of the appeals committee."
Like The College Fix on Facebook / Follow us on Twitter