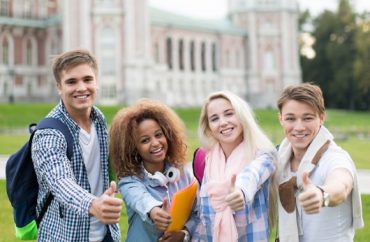 East Carolina University appears to offer an ideological balance among professors  
Finding an academic department at any given public or liberal arts campus across America that has more Republican professors than Democrat ones is truly a rare occurrence, like stumbling across the proverbial needle in a haystack.
So the fact that East Carolina University's finance department boasts more Republican professors than Democrat ones is a rare find. Indeed, public data show there are seven registered Republican professors and five registered Democrat ones in the department.
But wait, there's more.
The nutritional science department has four Republicans compared to five Democrats – not a bad spread – and East Carolina University's physical therapy department has an equal number of Republican and Democrat professors – tied at three apiece.
Overall at East Carolina University, looking up some 196 professors across 10 departments found 33 percent of the educators are registered Democrat and 15 percent are registered Republican: a ratio of 2 to 1, with 65 Democrats to 30 Republicans.
In comparison, the typical public or liberal arts campus usually sees Democrat professors outnumber Republican ones with a ratio of anywhere from 10 to 1 to 25 to 1.
MORE: Liberal profs outnumber conservatives 28-to-1 in Ivy League
MORE: Survey-Professors Would Rather Hire a Communist than a Republican
Consider at the University of North Carolina-Chapel Hill, professors registered as Democrats outnumber those registered as Republicans by a ratio of roughly 12 to one — and in 17 departments zero registered Republican professors could be found.
And Davidson College, an elite private university in North Carolina, has zero registered Republicans teaching in its political science department, and what's more, only six percent of the professors campuswide are registered Republican, research by The College Fix found.
MORE: At Davidson College only six percent of professors are Republican
MORE: At UNC Chapel Hill, 17 departments have zero registered Republican professors
Granted, the picture at East Carolina University – located in Greenville with an enrollment of about 28,000 students – is not wholly complete. The College Fix only looked up professors within 10 departments, and there are 60-plus.
Of the remaining scholars that were surveyed, about 23 percent were "unaffiliated" (in North Carolina, voters can register as unaffiliated), and about 27 percent were not available or were indeterminable (for example, multiple registrations for a common name).
The data was culled by The College Fix using professors' political party affiliations listed on the state's online public voter database, maintained by the State Board of Elections.
Not all the stats are rosy.
East Carolina University has 21 professors in its philosophy and religious studies department – and only one of them is a registered Republican. Emails to educators in the department whose political party affiliations could not be determined went unanswered. Its chair also did not respond to a request for comment.
'For the most part, East Carolina University remains unbiased'
But at least one conservative student at the school said he is not altogether surprised by the results.
"Democrats tend to be theoretical people who put more stock into social issues (i.e., philosophy) and Republicans tend to be more practical people who care more about fiscal issues (i.e., economics)," said Gio Triana, president of Turning Point USA chapter at East Carolina University (a nonpartisan free-market student group, for which the author works).
"For the most part, East Carolina University remains unbiased when compared to other schools I hear about on the news," Triana said. "We just named a new chancellor who is Republican; I foresee the ECU political spectrum to lean more right in the upcoming years."
But, Triana noted, "like most schools, the loudest voice usually gets pandered to, and more times than not the loudest voice is usually a liberal."
It's the last week of #ECUOrientation on campus! See how it's been going for #ECU20 & @ecuchancellor11 so far: pic.twitter.com/MsWezwbqDu

— East Carolina Univ. (@EastCarolina) July 11, 2016
The new chancellor is Cecil Staton, a former Republican state senator and former provost of Valdosta State in Georgia. The president of the University of North Carolina system who appointed Staton is Margaret Spellings, a Republican, who served under George W. Bush when he was governor of Texas as well as president (as Secretary of Education).
Asked for a response to The College Fix's findings, the university's spokeswoman Mary Chauncey Schulken offered the usual boilerplate response given when professor bias of any kind is addressed.
"ECU policy prohibits harassment, retaliation or discrimination, which includes unfavorable or unequal treatment, based on a political affiliation," she said in an email to The College Fix. "We do not require disclosure of political affiliation or inquire into political affiliation as a requirement for hire."
Like The College Fix on Facebook / Follow us on Twitter