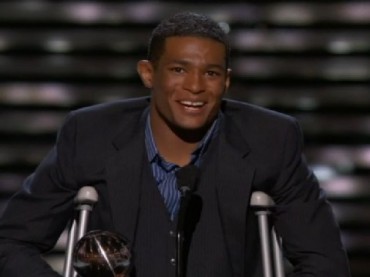 Being born with one leg was never a disability to Anthony Robles
The last seven minutes of Anthony Robles' wrestling career came to an end as he hobbled to the center of the mat, the referee raised his hand high, and millions of viewers witnessed history.
Born with one leg, no one imagined Robles would finish his senior year at Arizona State University's Division One wrestling program with a 36-0 record and ultimately become a NCAA national champion.
That was in March 2011. Today, he is a motivational speaker, and often shares with high school and college students how he became a champion.
What millennials can learn from his journey is not only how to overcome obstacles and the value of hard work, determination and perseverance – but that the victimhood mentality so prevalent today is detrimental to success.
In a speech at Grand Canyon University's wrestling camp shortly after he won the title, he didn't talk to the athletes about how he tried to rise to the top of the sport with only one leg. It didn't even come up.
He only spoke of how he became a better wrestler, period, and he did it by emanating champions and sticking to it – even when he wanted to quit. He did more. He pushed harder. He stayed longer. 
"Wherever you go, whatever is it – if you have that dream in your head, just stick with it," he told the students. "Just have a national champion mindset. Just tell yourself, you're a champion. Whatever you do, you're a champion. It will help you. You start believing in it."
An uphill battle
Robles' journey to his national championship match wasn't easy. As a high school wrestler, many teammates and opponents didn't take him seriously. However, Robles knew his calling.
"God made me for a reason, and I believe that reason was for wrestling," he told USA Today.
But there were plenty of naysayers. People who scoffed, who only saw a victim, only saw the handicap.
In an interview with the Jimmy V Foundation, Judy Robles recalls her son's earliest experience on the mat: "I went in the stands and my son threw down his crutches and he hopped to the middle of the mat. There's this scrawny little kid, my son, and I was so proud of him. But this woman was laughing. It broke my heart."
Over countless hours of training, Robles began to wrestle in a way that was unstoppable.
Some saw Robles' missing limb as a disadvantage at first, then they changed their mind.
"When he first started it was like 'oh, poor thing,' you know, or 'good for him, he's trying,' " his mother said. "Then, as he started winning, it was 'Well he's got an advantage because he's got all that upper body strength and people can't get low enough.' And I'm like 'No, the kid just figured out how to beat you guys.' "
Go time
In March 2011, at the NCAA Division One wrestling tournament in Philadelphia, many knew it was Robles' time to shine. Defending 125-pound champion Matt McDonough (Iowa) was the wrestler to beat, and Robles could then show the world that even physical differences – what some might consider disabilities – cannot stop faith, determination, drive and talent.
Ranked as the No. 1 seed entering the tournament, it was imperative Robles made a statement in the first round. Robles came out strong when matched against Matthew Snyder (UVA). By staying low, Snyder was forced to play by Robles' rules and he failed miserably. In the second period, the referee ended the match due to a technical fall—Robles ultimately won by mercy rule with a score of 17-1. Similarly, Robles defeated Steven Keith (Harvard) in the second round with a technical fall.
The quarterfinals and semifinals were not a breeze, but Robles managed to defeat Jarrod Patterson (Oklahoma) and Ben Kjar (Utah Valley) to enter the finals.
Kjar, known for his upper body strength as well, had matched Robles on his knees in the neutral position instead of staying on both feet.
"He [Kjar] was definitely the strongest opponent I've ever faced," Robles told USA Today. "But the coaches and I came up with a good strategy before the match just to stay patient."
Finally, racing down the red carpet on crutches and with the crowd roaring, Robles entered the most important match of his college career—a match that would decide whether he would go undefeated, whether he would be remembered, and whether he would be labeled a champion.
"For anybody to give Anthony any credit, it had to be the best of the best," his mom told the Jimmy V Foundation.
Robles and defending 125-pound champion McDonough meet at the center of the mat, shook hands, and stared at each other intensely. After the ref blew the whistle, each opponent tried to anticipate one another's moves, but Robles acted as if he owned the mat.
He forced McDonough to wrestle out of his comfort zone. Unlike Kjar, McDonough struggles—McDonough and Robles have never faced each other on the mat before, and McDonough discovers quickly it is difficult to transition and shoot on an opponent without a leg. The moment Robles lowers his center of gravity, it is evident McDonough tries to grab the leg, but nothing is there. The notion of disbelief is present as the defending champion looks as if he's never wrestled a day in his life when paired against Robles.
With strong head position and wrist control, Robles snaps down McDonough to his knees, turns the corner sharply, and impressively succeeds as the referee grants Robles two points. The crowd roars, and in the first minute of the match McDonough is left stunned.
McDonough is now in the worst position to be in this sort of match: underneath Robles. Through upper body pressure and brute strength, Robles managed to stay on top of the defending champion and fight for riding time. Once riding time is confirmed, Robles punishes McDonough through the use of a tilt, earns back points, and tilts again before the first period comes to an end.
Ultimately, the final score sat at 7-1, and Robles basked in the glory – his hand raised by the ref, the crowd roaring, the undefeated record.
Inspiring others
Robles continues to spread his story and encourage others through motivational speeches.
"Every soul who comes to Earth with a leg or two at birth must wrestle his opponents knowing it's not what is, but what can be that measures worth," he says on his website. "Make it hard, just make it possible and through pain, I won't complain. My spirit is unconquerable. Fearless I will face each foe for I know I am capable. I don't care what's probable, through blood, sweat and tears I am unstoppable."
In fact, Robles has given hope to students who face similar challenges across the nation.
For example, in 2012, Robles gave radio interview in Kansas.
"About a week later, he [Robles] received an e-mail from the host, who said Robles would want to hear about a high-school senior who lost his leg in a motorcycle accident. The talk-show host said that, when the senior named Jason awoke in the hospital, he said, 'I'm going to be all right because I'm going to be like Anthony Robles,'" reports azcentral.com.
Through the Washington Speakers Bureau, Robles gives speeches on topics such as achievement, courage, motivation, inspiring lives, and more.
By visiting Brigham Young University—Idaho and other institutions, it is apparent that Robles' inspiring story will continue to show young people that a disability is only disability if it's perceived as such.
College Fix reporter Austin Yack is a student at the University of California – Santa Barbara.
Like The College Fix on Facebook / Follow us on Twitter
IMAGES: screenshots