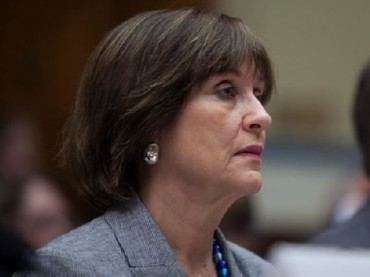 A Pepperdine University tax law professor has chronicled every development in the IRS targeting scandal since Day One through a blog he tirelessly updates daily.
Yes, literally every day.
Professor Paul L. Caron's "TaxProf Blog" had more than 400 entries under his IRS Scandal heading – one entry per day – in addition to multiple posts per day during the onset of the scandal in May 2013 and more recently now that the controversy has heated up again.
Take his Monday, June 16, entry – marked "IRS Scandal, Day 403," in which he cited an article by National Journal's Ron Fournier which eviscerated the IRS for its excuse that it "lost" an untold number of emails to and from the central figure in the controversy, Lois Lerner.
On his very first IRS Scandal entry, Caron gives a rundown of what Lerner originally admitted regarding the additional scrutiny given to groups requesting tax-exempt status with the words "tea party" or "patriot" in their title, as well as a link to the IRS's original statement.

He also provided links to articles from various news sources published on that day – anything from mainstream outlets such as ABC News, Politico, The Wall Street Journal, The New York Times, and The Hill, to editorials written in Newsbusters, PJ Media, Hot Air, Town Hall, and The Washington Examiner.
Throughout all 400-plus days of the IRS Scandal blog, the professor simply cites articles written about the controversy, and does not opine on what he personally thinks of the scandal. Caron also declined to be interviewed by The College Fix about his blog, and has carefully avoided inserting himself and his views about the IRS controversy in his blog.
However, outside of his blog, he has explained how he thinks the scandal should be addressed.
He wrote a USA Today op-ed in May titled "The media ignore IRS scandal," in which he claimed the best way to get to the bottom of what happened is by giving Lerner "full immunity in exchange for her testimony."
He also opined on the situation itself, saying the timeline of the IRS's admitted targeting of conservative groups "reveals nothing less than a scandal," and arguing the press has been "far from curious" about it.
He ended with: "Now imagine the president is a Republican. We've already seen that movie, and it was called Watergate."
With Watergate, he said, there were thorough investigations done by the FBI, DoJ, and a Senate Select Committee. With today's IRS Scandal, reporters are "largely ignoring" the scandal and it is "impossible to have confidence in the current investigations" led by the FBI, DoJ, and the House committee.
In addition to daily IRS posts on his "TaxProf Blog," he also posts regularly regarding other issues of tax policy and tax law, though he is careful not to opine and simply provides quotes from articles, links to those articles, and any statements that were issued pertaining to the issue at hand.
Caron teaches tax law at Pepperdine University's School of Law, and is the Herzog Summer Visiting Professor in Taxation at the University of San Diego's School of Law.
His bio on Pepperdine's website describes him as "one of the leading entrepreneurial tax scholars in the country," and he was also named one of the 100 most influential people in tax and accounting for each of the past seven years by Accounting Today.
In a report he authored titled "Occupy the Tax Code: Using the Estate Tax to Reduce Inequality and Spur Economic Growth," he countered the income inequality arguments espoused by many politicians. He also authored an article titled "Tax Advice for the Second Obama Administration" in which he offered ideas on how to heal America's "tax wounds."
He also maintains a Twitter account, @SoCalTaxProf, on which he posts links each day to his blog posts.
Students have described him on RateMyProfessors.com as "funny," "brilliant" and "fair."
College Fix contributor Andrew Desiderio is a student at The George Washington University.
Like The College Fix on Facebook / Like us on Twitter
IMAGE: Oversight and Reform / Flickr