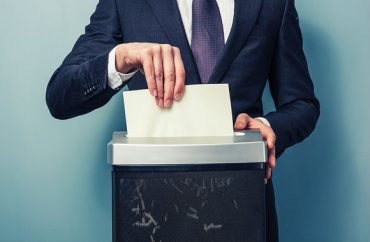 No longer willing to say 'disruption' is not constitutionally protected
The ACLU's Virginia affiliate has a raging case of Stockholm Syndrome.
Less than a month after Black Lives Matters protesters shut down an event where its director was to have spoken about "students and the First Amendment" – accusing her of promoting "white supremacy" – the civil liberties organization now identifies with its censorious captors.
First Amendment scholar and University of Washington law professor Ronald Collins noticed that "key portions" of the affiliate's original statement following the BLM shutdown at the College of William & Mary, a so-called public Ivy, had been removed.
It's pretty stunning what the Virginia ACLU doesn't want associated with itself anymore:
Disruption that prevents a speaker from speaking, and audience members from hearing the speaker, is not constitutionally protected speech even on a public college campus subject to the First Amendment; it is a classic example of a heckler's veto, and, appropriately, can be prohibited by a college student code of conduct as it is at William and Mary. As a government entity, a public college like William and Mary has an obligation to protect the freedom of the speaker to speak and not to allow one group of people to shout down or seek to intimidate other speakers or members of the audience who wish to hear the speaker from exercising their own free speech rights. This is true regardless of what individuals or groups are speaking, protesting or counter-protesting.
This is not legal speculating – it's settled First Amendment law. The Virginia ACLU is apparently no longer willing to perform one of its most basic functions: correctly stating the law.
Also disappeared down the memory hole:
What happened at William and Mary on Sept. 27 is a part of a larger national trend that is challenging campus leaders across the country to find the right formula for assuring that critical community conversations can take place in a culture of inquiry consistent with a true learning environment. Actions that bully, intimidate or disrupt must not be without consequences in any such formula.
You can read the original statement in its entirely via an Oct. 6 page cache.
A spokesperson for the Virginia ACLU confirmed to Rollins that it changed the statement "based on internal feedback," that the original does not reflect its current views, and that the national ACLU was not consulted on the change.
Black Lives Matter protested "Students and the First Amendment" Sept.27, run by @insideamp and @ACLUVA.https://t.co/BXz0wUANSz pic.twitter.com/jWmFsk9E5k

— The Flat Hat (@theflathat) October 4, 2017
It didn't really need to be. The national ACLU is already following the same trend as the "progressive left," with which it's practically indistinguishable by now, Walter Olson of the Cato Institute writes in The Wall Street Journal:
Claims that speech can be violent, and that it should get different treatment depending on whether it operates for or against historically oppressed groups, have become the unchallenged truisms of freshman orientation courses and social-justice efforts. …

[The Virginia ACLU's revision] brings to mind Robert Frost's description of a liberal as someone too broad-minded to take his own side in a quarrel.
Hundreds of its own national staff have asked the ACLU to ditch fidelity to First Amendment law, which is barely mentioned in the Virginia ACLU's revised statement, Olson notes:
Over the years the ACLU has expanded its mission to housing discrimination, LGBT issues, school finance and even supporting ObamaCare—issues with little connection to the Bill of Rights. The organization's joked-about "Civil Liberties Caucus" is fast becoming an old guard, giving way to progressives who are there for equality and social-justice work.
As anyone who has paid the slightest attention to campus activism in the past several years can attest, equality and social justice as conceived by the dominant strains in higher education are jealous gods. That makes the First Amendment and ideological diversity a form of blasphemy.
Perhaps we shouldn't be surprised that the iconoclasts have turned into the inquisitors.
MORE: BLM protesters shut down ACLU event, saying 'Liberalism is white supremacy'
IMAGE: Lolostock/Shutterstock
Like The College Fix on Facebook / Follow us on Twitter