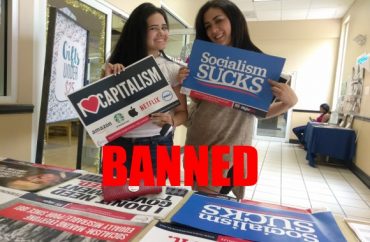 After granting the pro-capitalism club Turning Point USA tabling rights on campus last fall, administrators at St. Thomas University — founded in 1961 by Augustinians expelled from Cuba by the communist Castro dictatorship — have revoked that permission.
In an email obtained by The College Fix, Carmen Brown, an administrator at the Miami-based Catholic university, recently wrote to the club's field director Driena Sixto that the organization's "foul language" does not align with the school's Catholic principles, thus they are prohibited from promoting their cause on campus.
"In reviewing your organization, including its website, we found that your organization's use of foul language is offensive to the very principle of what we stand for in our Catholic core values as an institution. Therefore, we regret to inform you that we are not approving your organization's presence on our campus," Brown wrote in the March 16 email.
Brown did not respond when Sixto asked for clarification about the allegation, though Sixto told The Fix she believes the administration might have taken issue with TPUSA's slogans "Big Government Sucks" and "Socialism Sucks." But when Sixto asked Brown specifically if this was the language to which she referred, she said Brown directed her to the school's lawyer, who also did not reply. Brown also did not respond to The College Fix's requests for comment.
Matt Lamb, director of campus integrity for Turning Point USA, called the administration's decision "troubling."
"The school invokes a broad opposition to 'foul language' to keep a free-market, conservative group off of campus," Lamb told The Fix via email. "The higher-ups in the school administration frequently dodged requests to speak with us, and then failed to keep their facts straight."
Sixto, who is not a student at the school but rather a field director that helps college students in the Miami area launch and maintain Turning Point USA chapters, shared a strongly worded email with The College Fix that she sent to St. Thomas students who had signed up to be a part of the group.
"In an ironic turn of events, the school that was founded in 1961 by Augustinians that were expelled from Cuba by the communist Castro dictatorship is now a school where conservative values and freedom of expression are undesired, thanks to complaints of left-wing, and self-declared communist/socialist faculty members," Sixto wrote.
She also pointed out that Turning Point USA in fact stands for the same principles of limited government that the Catholic Archdiocese of Miami has invoked in their lawsuit against a government mandate, which forces employers to subsidize abortion-inducing contraceptives.
What's more, TPUSA is the largest student group at Barry University, a Catholic University similar to St. Thomas — and both schools receive funding from the Archdiocese of Miami, Sixto noted.
In a separate email she sent in mid-March to St. Thomas students, Sixto said she believes at the crux of the issue is professors who do not like the group's free-market message.
"A couple of self-declared socialist professors on campus complained about having me on campus promoting capitalism and free markets, and apparently it triggered them enough to go complain and have me shut down. This is what socialists, communists and the left customarily do anywhere in the world," Sixto wrote. "Since their ideas are so bad and go against the very concept of individual liberty and freedom they have a hard time selling it to others. Therefore the next step is to silence those who don't agree with them through censorship."
Nearly six universities over the last two years have refused club status to TPUSA, though the chapters have eventually overcome most of these fights with the help of free-speech supporting organizations such as the Alliance Defending Freedom and the Foundation for Individual Rights in Education.
Lamb said he is hopeful that a similar outcome will be possible at St. Thomas. Sixto has implored the administration, university president, and the archdiocese of Miami to reconsider their decision.
"We look forward to the university reconsidering their decision," Lamb said.
Like The College Fix on Facebook / Follow us on Twitter