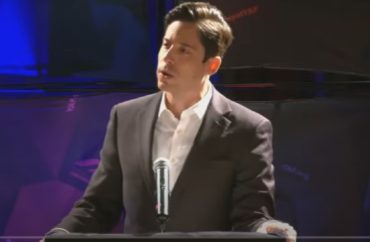 Talk was titled 'Science is Fake'
Much of what the Left has pushed as "science" is not really science, according to Daily Wire's Michael Knowles, who spoke at Franciscan University of Steubenville on Tuesday night.
Knowles' talk, titled "Science is Fake," explored the ways that liberals will accuse conservatives of being "anti-science," something the Daily Wire commentator said he has been called.
The Catholic commentator is the author of two books, a blank gag book called "Reasons to Vote for Democrats: A Comprehensive Guide" and another book called "Speechless: Controlling Words and Controlling Minds."
During his lecture, Knowles discussed the importance of questioning "science" and the bravery required to do so. He started with a history of once-agreed upon scientific "facts" that turned out later to not be true.
Knowles told the students that society is forced to believe anything "science" puts forward. If someone questions the facts then conservatives are called "idiot science deniers."
"The sciences have become absurd and words no longer seem to have any meaning," Knowles said.
He lectured for thirty minutes followed by thirty minutes of Q&A, which covered a variety of topics. Knowles last spoke at Franciscan University in 2018.
The national Young America's Foundation and the campus Young Americans for Freedom chapter, helmed by College Fix reporter Mary Grace Byers, hosted the packed event.
She told The Fix:
My hope is that Franciscan students and all those who listened to Michael's lecture will reflect more deeply on the scientific representations which they accept (whether that be about the environment, Covid, biological sex, etc.) and discern if those representations are the truth or if they are Leftist ideologies.
Most of the students who attended the lecture had previously heard of Michael Knowles and many faithfully listened to his show.
David Mazurkiewicz, a senior history major, told The Fix, that he found Knowles' views on science interesting. "At a school that is focused on faith and reason, it seemed to be a different perspective on how a Christian ought to view science."
Brendan Briones, a senior theology major shared a similar view. "I like how he talked about how conservatives have to go outside the general talking points to debate science and not fall for the Left's traps."
Several Young Americans for Freedom members told The Fix why they wanted to host Knowles and attend the event.
Criminal justice major Kate Barrett said she came to learn "more about why we believe what we believe [because] even as we are already conservatives, learning more everyday is very important."
"Today so many people, especially liberals, try to prove that science is the only reason why we should believe everything because science is science as they say." Barrett told The Fix. "There is so much more out there in the metaphysical world than just straight science."
Elizabeth Jock, a psychology major at Franciscan University agreed. "It's degrading to human persons and the world to reduce everything to science."
Another criminal justice major, Veronica Saunders shared a similar sentiment. "We have meaning and purpose in our lives and it's degrading to just say everything exists as it is because of science because there is so much more."
MORE: Notre Dame yanks support for pro-life event due to Ben Shapiro 2010 tweet
IMAGE: Young America's Foundation/YouTube
Like The College Fix on Facebook / Follow us on Twitter