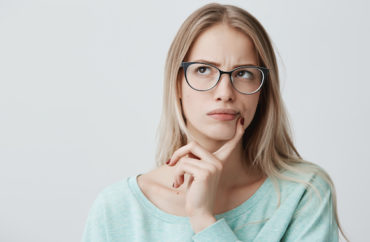 An article posted on Michigan State University's inclusion website argues that dehumanizing others is comparable to supporting "sexual assault and murder."
"Misrepresentation and acts to dehumanize others have long been a way for certain groups to exercise racial superiority," Dennis Martell, director of Health Promotion, told Michigan State University's Office for Inclusion and Intercultural Initiatives.
"When we dehumanize others, we position ourselves to justify and accept other forms of violence such as sexual assault and murder," Martell said.
The comparison was couched in an Oct. 25 article published by the office that warned students against wearing insensitive Halloween costumes.
"It is crucial to avoid costumes that mock or show insensitivities around traumatic experiences," said Genyne Royal, assistant dean for Student Success Initiatives, in the article.
Michigan State University students were emailed a link to the article last week, encouraging them to read it and educate themselves on appropriate Halloween costumes.
The email was penned by Senior Vice President for Residential and Hospitality Services Vennie Gore.
"I'm asking you to think about this now, before heading out into the excitement of the weekend. Make a plan, be respectful (including being mindful of Halloween costumes that perpetuate stereotypes and cultural appropriation) and do what is best for you, your fellow Spartans and the East Lansing community," Gore said.
The Inclusion and Intercultural Initiatives' article stated that Halloween "can become a breeding ground for racist, sexist, culturally insensitive and biased behaviors."
The article also listed categories of costumes that "mock or show insensitivities around traumatic experiences":
Pandemic victim
Blackface
Holocaust victim
Cultural stereotypes
Body-shaming and objectifying
Islamophobia
Transphobia
Mental Illness
Sexual harassment
Homelessness
National tragedies
Leading up to Halloween weekend, reminders were posted around campus about costume expectations with the words in all-caps: "HATE HAS NO HOME HERE."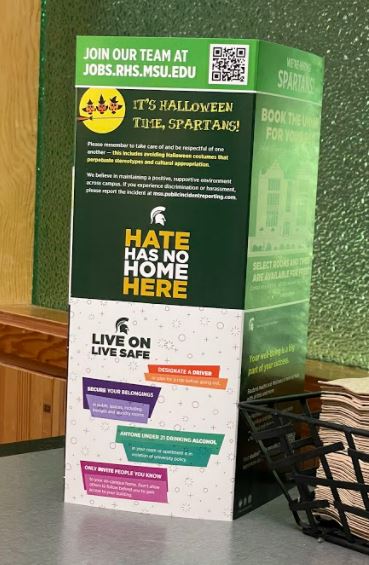 The display reads: "Please remember to take care of and be respectful of one another — this includes avoiding Halloween costumes that perpetuate stereotypes and cultural appropriation."
The Halloween display also essentially encouraged students to report to the bias response team if they spotted a discriminatory costume: "We believe in maintaining a positive, supportive environment across campus. If you experience discrimination or harassment, please report the incident at msu.publicincidentreporting.com."
MSU grad student Matthew Bouerle said in an interview with The College Fix that he is troubled by the university's messaging.
According to Bouerle, this is the first time he remembers receiving an email from the school specifically about costumes, but he still was not surprised to see this one in his inbox.
"I kind of knew stuff has been, over the last year or so, a lot more political. Last year around June, [the school] has been sending out these general emails and they are all very cookiecutter, left-wing politics kind of stuff," Bouerle said.
He said while he understands why administrators would caution against blackface, the "pandemic victim is a bit weird."
"I mean you will probably be seeing a lot of people dressing up as nurses and doctors. Some people may see that as a traumatic event so you could probably say don't dress up as a doctor or nurse, either," he said.
However, "I don't think it is really healthy for people to tell students to take offense to things, especially when students are not trying to be offensive," he said.
"I am just not on board with this cultural appropriation thing. As long as you are not mocking something, it is okay to wear and appreciate something that is not a part of your culture, especially on Halloween where one of the main things of the holiday is dressing up as something you are not."
Michigan State University's media relations department, as well as Gore, the author of the email to students, did not respond to a request for comment.
ALERT: Check out our Campus Cancel Culture Database
IMAGE: Cookie Studio / Shutterstock
Like The College Fix on Facebook / Follow us on Twitter