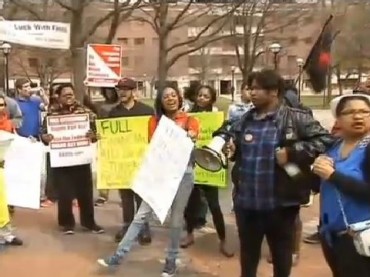 ANN ARBOR – In the wake of a Supreme Court decision this week that effectively bans affirmative action in Michigan, a small but vocal group of student radicals converged in the center of the University of Michigan campus on Thursday to protest, saying the ruling is akin to former Jim Crow racial segregation laws and the high court's infamous separate but equal ruling.
"This decision is the Plessy vs. Ferguson of our lifetime, a decision that says 'a white majority state has the right to vote on the political and educational future and rights of minority communities,'" the student protestors' spokesman, Jose Alvarenga, declared to the crowd during the demonstration.
"And those decisions that cemented the Jim Crow in the Old South were not ended by legal means," he continued, adding they "were ended by a civil rights movement, and today we see this as building a new civil rights movement in our lifetime to defeat the new Jim Crow and these legal policies that discriminate against minority communities."
At the rally, the students demanded free tuition and race-based enrollment quotas to be installed at the University of Michigan, ground zero for the ongoing battle between affirmative action proponents and foes.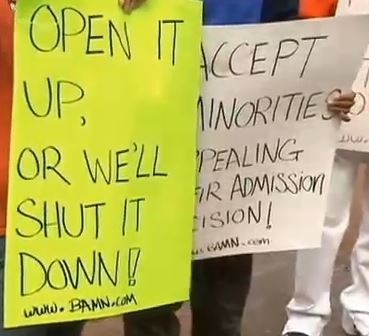 The 30 or so protestors – all members of three extremist campus student groups whose official spokesman, Alvarenga, is a student in the country illegally – chanted phrases such as "double minority enrollment now, open it up or we'll shut it down" and "they say 'Jim Crow' we say 'hell no'" during the two-hour rally.
The members of the Coalition to Defend Affirmative Action, Integration & Immigrant Rights, and Fight for Equality By Any Means Necessary also alleged University of Michigan's admissions administrators are racist.
"With this campaign, we want to expose the racism in the admissions policies and present a real clear picture of who the actual people who are applying are, and to make it clear that the students are qualified, in fact, and should have the right to come to university as well," said Alvarenga in an interview with The College Fix.
"If you're not getting financial aid…that's the same as getting a rejection letter from the University of Michigan, and so we are also fighting for an increase in financial aid for students to come," Alvarenga said.
He also said the Supreme Court is racist.
"I think with this decision by the Supreme Court…it's clear that, that um, like the re-segregation of higher education…is not just, um, like at the university, but also it is like, on the legal level, both at the state level and also at the national level that are discriminating against minority communities," Alvarenga said in an interview with The College Fix.
"Not just the university," he added. "We have seen just this past year the Supreme Court make, um, very conservative, um, very racist decisions, like one after another, um that are like, you know, direct attacks on the political and equality of minority communities in this country."
Thursday's rally was preceeded by another, similar one on April 16, held by By Any Means Necessary – this time to demand the admittance of high school seniors Brooke Kimbrough and Daisha Martin following both students' rejection.
Kimbrough, an African American senior at University Prep in Detroit, had an ACT score of 23 and a GPA of 3.6, according to FOX 2 News. At Michigan, about 76 percent of students have a GPA of 3.75 or higher, while the mid-range ACT scores for accepted students are between 28 and 32.
But Alvarenga called Michigan's admissions policies racist, inferring Kimbrough's rejection was because she was black, not because she was unqualified.
"Some of the students who are here are students who are appealing their rejection letters…the university keeps saying that, 'there's not enough qualified students' or that they're letting students in but they don't want to come here," he said.
On Tuesday, the Detroit News reported that a BAMN attorney called for the university to drop ACT and SAT scores in admissions considerations, deeming them discriminatory.
And in response to Thursday's protest, a campus official answered some of their questions after the group descended on an administration building. The official agreed to arrange a public meeting to listen to the groups' concerns, according to the Michigan Daily campus newspaper.
However other students seemed less impressed by the display. There were only about a dozen or so onlookers.
At one point a black student walked by and asked what was going on. He was told it was a rally for affirmative action.
He responded he's already at the University of Michigan, "so I don't care what happens with this."
College Fix contributor Derek Draplin is a student at the University of Michigan.
Like The College Fix on Facebook / Follow us on Twitter
IMAGES: Fox 2 News screenshots