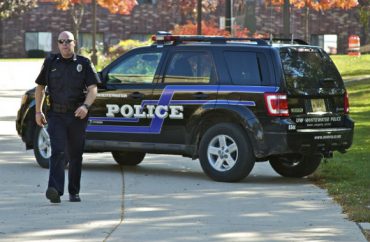 No one bothered anti-Trump protesters outside the 'free speech zone'
Grand Valley State University is more fearful of conservative speech than liberal speech as evidenced by its enforcement priorities, according to a federal lawsuit against the Michigan school.
Campus authorities pounced on members of the Turning Point USA chapter Oct. 17 when they left one of two free speech zones that "make up less than 0.03 percent of the campus," according to the Alliance Defending Freedom, which is representing the students.
They were asking their peers to write whatever they want on a "free speech ball" to educate them about the First Amendment:
While the Turning Point USA members were on a large, open walkway in front of the Student Services Building, GVSU administrators and campus security approached them and informed them that they were violating the Speech Zone Policy and were therefore not allowed to conduct expressive activity in this location on campus. The security officers explained to them that they would be arrested for trespassing if they continued to engage in their free speech activities outside of the speech zones, so they ceased their activities.
Less than a month later, campus authorities made no attempt to stop a march around campus – well outside of the speech zones – to protest Donald Trump's election. Those protesters stood in the same place where Turning Point USA members had been threatened with arrest, the alliance said.
The lawsuit in the U.S. District Court for the Western District of Michigan seeks a legal declaration that the free speech zones are unenforceable and unconstitutional.
Read the lawsuit and alliance summary.
MORE: Arkansas Tech tells students speech code overrules U.S. Constitution
Like The College Fix on Facebook / Follow us on Twitter
IMAGE: .UWW ResNET/Flickr