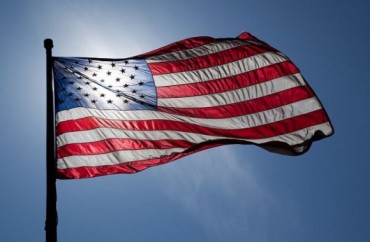 San Diego State College Republicans ask SDSU to change its on-campus housing code to allow Old Glory to fly
Two students at San Diego State University, junior Connor Fenwick of the Army ROTC program, and sophomore Cameron Box, an active member of the U.S. Coast Guard, were forced to remove an American flag, an Army flag, the U.S. Coast Guard Flag and an SDSU blanket from their dormitory balcony Tuesday night after they were threatened with expulsion.
The students live in on-campus housing named Piedra del Sol, run by the school, and therefore must answer to campus officials and the U.S. military. They were told the flags violate housing protocols, reportedly as a fire hazard.
Both students told me they felt singled out for their patriotism, which was a reasonable suspicion because their neighbors in the same dorm complex have foreign flags adhered to their balconies, a British one for example. Other objects, like towels, are draped over railings as well.
But the SDSU living agreement reads: "No items, except patio furniture designed for outdoor use, may be placed on balconies and patios. Hangings, partitions, or curtains of any type may not be used on balconies or patios," reports a San Diego ABC news affiliate, which also quoted ACLU attorney David Loy, who said the university is "within its rights to prohibit hanging anything from a balcony."
Since when has flying the American flag and military flags been a no-go on American college campuses? Doesn't the First Amendment of the Constitution grant the "freedom of expression" to students to fly their country's flag?
The controversy at SDSU echoes a similar debate that took place earlier this year at the University of California, Irvine, where a student government committee voted to ban "Ol' Glory" from an administration office under the nonsensical idea that the American flag was offensive. With pressure from across the country, the committee vote was vetoed and the flag was allowed to remain. Yet, without nationwide pressure it is safe to say that the motion would have passed, and that thought alone is enough to make me question why people want to live under our flag and still condemn it.
America is a country of mixed cultures from all over the world and arguably the most diverse country on this planet. As a College Republican and American, I am damn proud of this fact as well as the United States' inclusion of other religions, cultures and traditions.
Problems are bound to arise, however, and questioning the place that the American flag has on public college campuses is the new big thing.
Just last week, a University of New Mexico student was told to remove an American flag from his dorm window, because if it was allowed to remain then students could hang Confederate or Nazi flags too, ABC Albuquerque reported.
This "slippery-slope" fallacy only serves as a façade that admittedly, unintentionally recedes the sanctity and majesty that is the Stars and Stripes and places it in a category alongside flags associated with some of the worst atrocities of all mankind.
San Diego State, situated just miles away from vibrant Marine, Navy and Air Force bases, is by no means hostile toward service members. SDSU takes great care of its student-veterans and military men and women.
This latest development is an unnecessary and uncalled for incident that should never have been an issue. This is a case of two SDSU student-military peers being singled out.
Nearby apartment complexes, such as BLVD 63 on the corner of 63rd St. and El Cajon Blvd., allow state and national flags to fly, so why not SDSU on-campus housing?
The school claims that the flag flying violates the fire code, but if that were the case, wouldn't everyone living under the same code, on and near campus, be forced to remove hanging objects from balconies?
At SDSU, American flags are very common. You can walk into any many apartments and chances are you will see an American flag proudly pinned to the wall. Indeed I have one in my apartment, right next to the California flag and the same Aztec pride blanket that Mr. Box and Mr. Fenwick had hanging up. It is common culture at SDSU for students to display the American flag indoors. But apparently, God forbid it proudly be displayed outside for the public to see.
As Chairman of the San Diego State College Republicans, we hope and politely assert that SDSU change its on-campus housing code to reasonably allow state flags, national flags and military flags to be flown outside residents' living areas.
Like The College Fix on Facebook / Follow us on Twitter