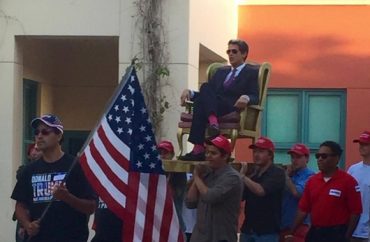 Say one thing for Milo Yiannopoulos, say he knows how to make an entrance.
The firebrand Breitbart journalist's highly anticipated visit to the University of California at Santa Barbara on Thursday as part of the "Dangerous Faggot Tour" began with the pundit entering on a large wooden chair held aloft by a group of male students with bright red "Make America Great Again" hats on as the song "America, F*ck Yeah" played in the background.
Yiannopoulos gave a little fist pump at the song's chorus, then the crowd erupted in chants of "USA, USA!"
In fact, Yiannopoulos – with a full-size Donald Trump cardboard cutout in tow – received a mostly warm welcome at the campus that earlier in the week saw protests between event organizers and student activists.
The speech took place without being shut down by rabid student protesters, unlike some of his other campus visits, most notably at DePaul University earlier this week where students stormed the stage.
At UCSB, many students in the room donned Trump shirts and signs. Besides a handful of shouting matches here and there during the speech, no protests inside the venue materialized.
Some 200 students packed the lecture hall to hear Yiannopoulos wax philosophic on topics related to "Feminism is Cancer," the official title of his speech. No sacred cow was left unscathed as he mocked modern feminist icons Lena Dunham and Amy Schumer, and joked that if women worked longer hours maybe the wage gap would shrink.
He commented that feminists tote "red and purple and green hair," and feminist studies departments want to turn students into "Lena Dunham-lookalikes."
"I'm convinced Lena Dunham is a conspiracy. Is there anyone who actually likes Lena Dunham? So why is she on the cover of everything, like Amy f***** Schumer?" he said.
He also focused on rape statistics. For example, he said that in 2014, there were only 12 rapes on UCSB's campus of roughly 20,000 students, which differs from the rape statistics showing one in four college women are raped across the country.
He went on to ask whether feminists would want "men to rape more so they've got more to complain about so they can hang onto their ridiculous fallacious statistics or whether they prefer to rediscover their commitment to truth, accuracy, and evidence-based thinking. I don't know, perhaps a feminist would like to tell me."
RELATED: DePaul protects protesters who crash Yiannopoulos event, not the crowd that came to see him
One professor stood up and asked him to be a guest speaker for the university's "Psychology of Gender" course, and that was after Yiannopoulos repeatedly made jokes about "dykes in the gender studies department."
But the professor also quipped: "Well, I'm a dyke, so I don't really care about my looks or what I eat or anything either." Their exchange remained civil.
In the end, Yiannopoulos said that feminists don't have much to complain about. They have been successful in achieving their right to vote, equal access to education and much more because of the western capitalist society – the "only system that has rewarded these rights en masse."
Like The College Fix on Facebook / Follow us on Twitter
IMAGES: Austin Yack, For The College Fix
Like The College Fix on Facebook / Follow us on Twitter