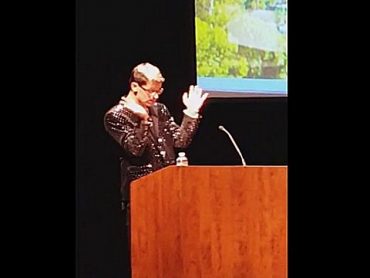 Conservative provocateur and Breitbart.com contributor Milo Yiannopoulos brought his "Dangerous Faggot Tour" to the University of Delaware this past Monday evening in what was billed a sold out event.
Prior to his appearance, posters advertising the show — with the headline "Trannies are Gay" over images of Michelle Obama and Kaitlyn Jenner — were put up around campus.
This, obviously, was controversial in itself, and the UD student newspaper The Review reported campus police ultimately took them all down. (I don't see how UD police had jurisdiction to remove the one below, however, as that location is off-campus.)
Posters advertising Milo Yiannopoulos' event tonight in Mitchell Hall have been taken down by university police.#UDel pic.twitter.com/KWygXb3PCe

— The Review (@udreview) October 24, 2016
The show at Mitchell Hall was reported "sold out" for some time, even though tickets, available online, were free. Upon arrival at Mitchell, there were plenty of "bike rack"-style barriers set up for any protesters who showed up (there were none an hour before doors opened), and at least five UD cops were on the scene.
When doors opened at 6pm, there remained exactly zero protesters. Even though a counter-Milo "Unity Fair" was going on nearby at the same time as Milo's appearance, at least some activists were expected at Mitchell.
A significant portion of those waiting to get in were denied entrance for not having tix, and were told they couldn't get in anyway as there were no available seats.
The thesis of Yiannopoulos' talk was unstable mentality of the transgender community:
My position is a simple one. There are only three genders:

Of course many trannies, or those that make up their own new gender, are not actually retarded. But they are deeply mentally damaged, and they are failed by a liberal establishment obsessed with making them feel good about themselves. …

If trans lobby had its way, misgendering them would land you in jail.   How ridiculous is this idea!  Forcing people think a certain way, to make another person comfortable. …

Trannies need to learn to say "So What" if someone doesn't accept them.  But they never will.  They are obsessed with being victims and being given special rights.

Everything they don't like is transphobic. They've even invented a swear word for straight people: "cis".

And if you won't sleep with a tranny, you are transphobic. They call it the Cotton Ceiling, which is a stupid name. They should just call it: Biology.

My constant refrain is that we must not tailor our cultural norms to the whims of the mentally ill.

We do not require Americans to speak french to mental patients who believe they are Napoleon Bonaparte.  We also don't change that poor soul's birth certificate to say he was born in France centuries ago.  …

MORE: Yiannopoulos appearance at NYU scrapped due to 'security concerns'

I want you to imagine the struggles of a fellow student.  They feel they don't belong in their body.  They were born the wrong shape, and when they look into a mirror, they see something alien…. It isn't them.

This fellow student will go to any lengths to become the person they KNOW they are on the inside.  It may involve drug usage, mutilation, or starvation.

You may think I am describing a transexual, but I'm not- I'm describing a young person with Anorexia Nervosa.

Anorexia Nervosa is a mental disorder.  When detected, the sufferer will receive counseling and other mental health treatment to stop their destructive behaviors and learn to recover both mentally and physically.

Many sufferers of Anorexia end up leading normal and productive lives, and even maintain a healthy weight.

Now imagine if Anorexia was on the LGBT spectrum.

How would treatment differ?  The Anorexia would not be called a mental disorder, but something else, something non-offensive, maybe a condition.

It would be encouraged by parents and mental healthcare providers.  The trans-eating would be praised for their strength and encouraged not to eat.  They might even get surgery to remove some ribs to be even thinner.

It's sick and disgusting, but that largely describes how gender dysphoria, formerly known as gender identity disorder, is treated today.
Yiannopoulos pointed out that some have been "brave enough" to tell the truth about transgenderism, notably Distinguished Service Professor of Psychiatry at Johns Hopkins Dr. Paul McHugh.  McHugh has said it is a "'mental disorder' that merits treatment, that sex change is 'biologically impossible,' and that people who promote sexual reassignment surgery are 'collaborating with and promoting a mental disorder.'"
Milo asked if criticizing transgenderism will lead to other "phobias" — "What's next? Schizophrenia-phobe? Bipolar-phobe? Pedo-phobe?"
During the event not a single person interrupted in protest, and when it was over there was still not one protester outside. Even conservative pundit Katie Pavlich (much less controversial than Milo) had managed to score quite a few when she spoke at Mitchell a year before.
It seems that Jennie Jung, president of the feminist student organization V-Day and co-organizer of the UD Unity Fair played her cards right — she said "that the campus community could not protest [Milo] in a traditional sense." Doing so would have played right into Yiannopoulos' hands.
Speaking of which, after Milo was finished there was still a half hour remaining before the Unity Fair shut down, so I headed over to see how this "counter"-Milo event was moving along.
If the lack of opposition at Milo's speech was disappointing, the amateur nature of this Unity Fair was equally so. All it featured was a bunch of "stations" highlighting various campus organizations, complete with middle school-ish informational dioramas. Planned Parenthood, the NAACP, the Muslim Student Association, and a drag queen group were among those represented.
Read the full transcript of Milo's UD speech.
MORE: U. Michigan cancels Yiannopoulos-Sally Kohn debate due to latter's excessive fees
MORE: LSU seeks ways to stop Milo event based on possible 'incitement of violence'
Like The College Fix on Facebook / Follow us on Twitter
IMAGE: YouTube