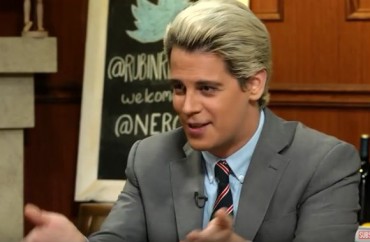 The 'ol "security concerns" excuse has popped up again, this time regarding an appearance by conservative provocateur Milo Yiannopoulos at New York University.
The Wall Street Journal reports that NYU officials sent a letter to the school College Republicans informing them that "physical altercations had broken out at previous stops" of Milo's college tour, and as such his event next month at NYU was canceled.
The letter pointed out that Milo was to appear at a site "near student groups at NYU's Manhattan campus 'that are subjects of Mr. Yiannopoulos' attacks.'"
"Garbage," Yiannopoulos responded. "The only person really at risk at any of my talks is me," he said.
U.S. college campuses have pulled the plug on 21 speakers because of opposition this year, the most since 2010, according to the Foundation for Individual Rights in Education, a nonprofit focused on free speech on campus. Last year, there were six.

Amy Adler, an NYU professor of law who specializes in free speech, said student attitudes have changed. "The younger generation is asking questions about diversity, and micro aggression, that are not ones that we were asking 10 or 20 years ago," she said.

MORE: LSU seeks ways to stop Milo event based on possible 'incitement of violence'

Drew Weber, the vice president of NYU College Democrats, said organization members had mixed feelings on the cancellation. While many disagree with Mr. Yiannopoulos's views, Mr. Weber said, they believe he has the right to have an event on the campus as long as safety remains a priority.

"It's tough to uphold the principle that everybody should have the right to say whatever they want when by doing so it jeopardizes the safety of the student body," Mr. Weber said.
Um, Mr. Weber, nothing Yiannopoulos says "jeopardizes" the safety of students. The only way such could happen is if he incited people to do harm to others — which he does not do.
The safety concerns, as Milo rightly pointed out, are due to those who may endanger him — simply because they don't like what he has to say. If he wishes to continue despite any peril, shouldn't that be his decision?
If anything did happen, it sure wouldn't make those "tolerant" progressive groups look very good, eh?
Yiannopoulos makes an appearance at the University of Delaware tomorrow evening.
MORE: UC Irvine College Republicans sanctioned for Milo event
MORE: DePaul 'Black Leadership Coalition' uses Milo fracas to make new demands
Like The College Fix on Facebook / Follow us on Twitter
IMAGE: YouTube
Like The College Fix on Facebook / Follow us on Twitter